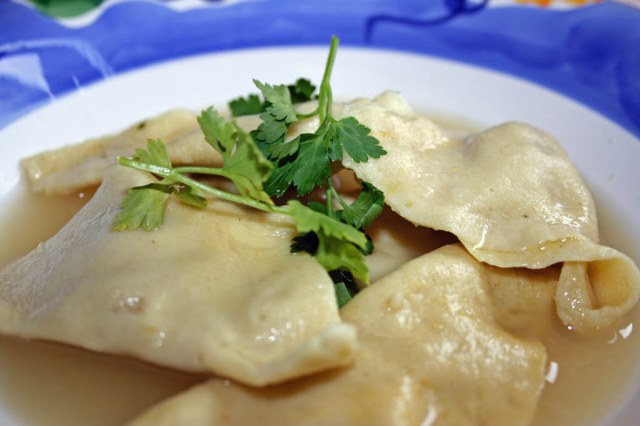 Your family may have a fancier recipe, but this basic one off the Chabad website is super scrumptious and simple enough for beginners!
The Dough:
1 and 1/3 cups flour
2 eggs
1/2 teaspoon salt
3 tablespoons oil
Filling
1 cup ground beef or chicken (or potatoes, etc)
1 small onion, grated
1 teaspoon salt
To Make:
In a large bowl, combine the dough ingredients together.  Knead and roll out thin on floured board. Cut into 3 inch squares or circles.
In another bowl, mix filling ingredients well. Place a teaspoon of filling carefully in the center of dough. Fold so sides meet in center and press edges together, fold the top over to 'seal' – helps to dip finger in cold water to moisten.
Kreplach can now be boiled and served in soup or sauteed in oil.
To Boil:
Place in boiling salted water – cook approximately 20 minutes until kreplach float to top.  Add to your favorite broth and enjoy!
or
To Saute:
Heat in skillet over medium flame, take boiled kreplach and saute until golden brown on both sides. Yum!
|
Print