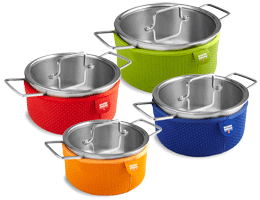 SIGN UP for our Fab & Fru Fridays, and you'll be AUTOMATICALLY entered to WIN a 2-QUART KUHN RIKON COOK & SERVE!

The Kuhn Rikon Cook & Serve is a great kitchen tool that just hit stores a couple of weeks ago. It's fun and practical and will make cooking soups easy! Kuhn Rikon's Cook & Serve features a high-quality stainless steel pan with tempered glass lid that fits into a neoprene sleeve that will keep foods cold or hot for up to an hour. You can use it for stews, pastas, soups even dips!
So Sign Up NOW & you'll be INSTANTLY eligible to WIN THIS 2-QUART COOK & SERVE! And once you've registered on Fab & Fru, we'll automatically enter you to win our Giveaway each week!
|
Print