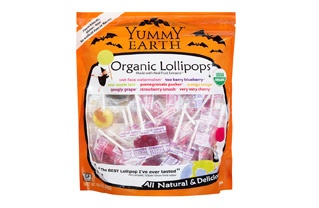 SIGN UP for our Fab & Fru Fridays, and you'll be AUTOMATICALLY entered to WIN a GIANT  BAG OF YUMMY EARTH LOLLIPOPS!

Make this Halloween a more kid and earth friendly holiday by giving out the #1 organic candy famous for its 21 flavors of lollipops! These wholesome and organic treats for children are delicious and exploding with flavor- all while providing an alternative choice for Halloween.  Yummy Earth candy makes Halloween just as fun as always but greener and healthier!
So Sign Up NOW & you'll be INSTANTLY eligible to WIN A Family-Sized Bag of Halloween Lollipops! And once you've registered on Fab & Fru, we'll automatically enter you to win our Giveaway each week!
|
Print