by Stephanie Berenbaum – October 27, 2010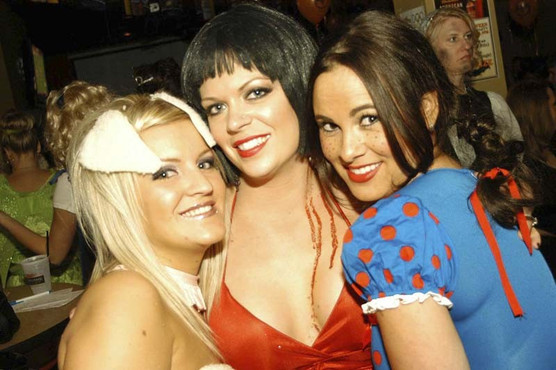 Last Minute Fab & Fru Tricks & Treats
Think Halloween is just for kids? Think again! Personally, I'm looking forward to raiding my kids' Halloween treat bags and hoarding all the Tootsie Rolls, tiny Hershey Bars and Yummy Earth Organic Lollipops (our giveaway this past week!) that I can.  But this year I also want to reclaim my old favorite holiday by adding some Fab & Fru adult fun!
Dress to Kill
My boys have decided they want to dress up as Ghostbusters this year – I love that they have so fully embraced this childhood favorite of mine! Since I am going to go trick or treating with them, I'm going to dress up too!  Which has led me to start looking around the house – last minute of course – to see what kind of costume I can throw together!  Here are a  few of our Fab & Fru favorites…
Always a Bridesmaid
Seriously, I knew someday all those bridesmaid dresses I spent zillions on would come in handy!  If you were ever looking for a higher purpose for all those itchy, vaguely peach colored frilly confections you had to buy, here it is! For years, I have pulled out some of the most notorious gowns I have been forced to wear and worn them again – for Halloween.  Seriously, ladies, most of them are so ugly they really are scary. Grab a cheap bouquet, pile on the make up and go as a bridesmaid. You won't believe how much sympathy you'll get from other women who have had to wear dresses just as bad as yours!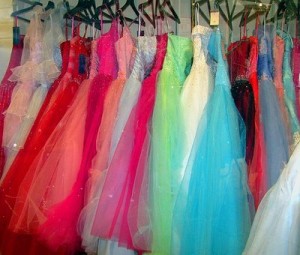 The recycled bridesmaid dress is also a very versatile costume because it can also be easily turned into Miss America with a homemade sash and 2 buck tiara! Not only is the reuse of the bridesmaid dress eco – friendly (let's face it – that polyester will still be sitting in a landfill many years from now), but it will give you a soul cleansing chance of actually enjoying wearing the 'bashful' (yes, that was the name of a shade of one of my favorites) colored gown you have been cursing for years.
Fab & Fru Jersey Shore!
You may see more than a few Snookies walking around this year, but our friend Lisa says if you're gonna Snookie out this year, she has a Fab & Fru tip for you:  you don't need to 'invest' money in self tanner and a Bumpit!  If you have long hair like Brandi & I do, all you need is to cake on the eye makeup, layer on the bronzer and substitute a toilet paper cardboard tube for your Bumpit!   Then raid your closet for an outfit that's a little too tight & revealing and throw on your highest heels – done!  
You can also go as Casual Snookie.  Overdo the eye makeup and the bronzer, and put on your favorite  sweatsuit.  Skip the homemade Bumpit, and throw on a baseball cap- Jersey Shore all the way baby!
Go For The Gold
Speaking of Ghostbusters & other blasts from the past, my friend Melissa and her husband Michael recently scored a perfect ten with the Mary Lou Retton and coach Bela Karolyi outfits they donned for an 80s party!  The simple additions of a wig and dollar store gold medal turned her old leotard into a winner of an ensemble. All Michael needed was a sweatsuit and mustache – good to go!  Caveat – you probably do need a body as fab as Mel's to pull it off.  If you've been diligent about working out this year, this is the costume for you!
|
Print
Pages: 1 2