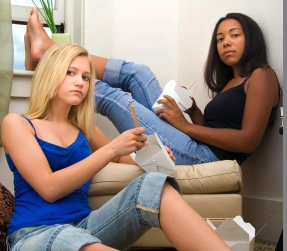 After graduating college, Linda packed up her things and moved to New York City in hopes to realize her dreams of becoming a writer.  Needing to find an affordable apartment that fit her new life and her starter salary, Linda took a room in a shared flat in Brooklyn.  Her roommate Gen's family had lived in the building for years, and Gen was already the full lease holder of the apartment.
Although there was no written lease, Gen made it very clear to Linda when she moved in that her rent of $750 per month also included ALL utilities.  However when summer rolled around and the air conditioning turned on, Gen asked Linda to pay half the electric bill.  Even though she secretly thought that Gen should have mentioned that she'd have to pay more in the summer months, Linda did not question Gen's request.  She could see how Gen may have overlooked how expensive air conditioning bills could get, and Linda could handle paying her share for a few months.
However, even after the summer heat waves ended and the window units were shut off, Gen continued to present Linda with the electric bill, expecting her to pay.  Clearly, there was some kind of miscommunication going on, right?!  So when Linda confronted Gen about returning to their original agreement, Gen admitted that the bills had been more than she had expected and she now wanted Linda to pay half the utility bill all year round.  When Linda got upset that her original arrangement had been changed without discussion, Gen recoiled and said "It's fine.  Just pay me whatever you want…"
As most people do when they hear a statement like that, Linda froze and then began to question herself.  Was she being cheap and unreasonable?  Or was Gen wrong to ask Linda to pay more money?  Should Linda pay anything extra or nothing additional at all?  What would you do in this situation?
Tell us what you think!
|
Print