by Brandi Savitt – October 20, 2010

A Chef's Secrets for Grocery Store Savings
There's been a lot of talk in the Fab & Fru office lately about how to cut down our own personal grocery bills.  This is easier said than done when someone in your household has a food allergy or a finicky palette.  Not to mention the horrifying fact that eating healthy is actually an expensive lifestyle choice in this country!  Buying high quality organic produce, dairy and meat takes a heck of a lot more cash than buying heavily processed food.  It's terribly sad, but true…   So I decided to pick the brain of My Kitchen Witch Catering Director and Gluten Free Chef Tara Raichele, to see just how this chef, caterer and mother of two puts together a scrumptious menu of quality and savings whether she is shopping to feed the cast and crew of the Celebrity Apprentice, Top Chef, Project Runway–or her very own family!
Pick Your Protein First
Tara's first Fab & Fru suggestion when hitting the grocery isles is to head straight for the butcher or fish department and buy your proteins first!  Let's say you are planning to cook 3-4 dinners at home this coming week, Tara insists that by choosing the ingredient of your main dish first, it is much easier to select complimentary vegetables and grains to accompany your meal without over buying food that could go to waste before you ever figure out what to do with it.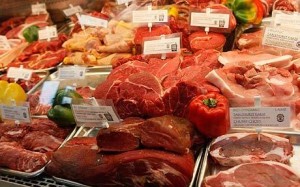 Even though the gorgeous fruits and veggies section is typically the first thing you see when you walk into the grocery store- go there last.  I often find that I have instantly put the boldest and the brightest produce into my cart before ever deciding what meals I am planning to make with them.   This is super dangerous when you're trying save money.  We all do it from time to time, but wasting food is never Fab & Fru!

Buy What's On Sale
Tara says one of the biggest ways to ensure buying high quality meat, fish and poultry, is to buy what's on sale!  Now, I always thought what was on sale at the butcher counter was the stuff that was about to go bad, but Tara explains that it's just the opposite!  The sale items at most butcher counters are typically the freshest cuts they have- they just may have a lot of it- hence the great price!
Be Green & Buy Seasonal Produce
It's no secret that buying local produce when it is in season is not only the cheapest way to go, but typically it is also the freshest and most delicious.  Buying in season from your local farmer's market or even the grocery store, not only can save you some cash, but by supporting local farmers, you are also reducing your carbon footprint.  When food is not shipped by planes, boats or  long truck rides, natural resources are preserved, and the planet gets a little bit of a breather.
Free Recipes Everywhere
If you don't fancy yourself an intuitive cook, and worry that if you don't follow your list to a tee, you won't know how to cook anything in your basket- fear not!  Many grocery stores actually put out free recipe cards next to their sale items.  This is genius and a fantastic way to expand your horizons!  And don't forget about the good old world wide web…  You don't even have to wait to get home to search for recipes.  In the middle of the store, you can use your phone to visit a site like Epicurious to get some instant free inspiration on how to cook what's on sale!
|
Print
Pages: 1 2