by Kathy Pape – November 8, 2010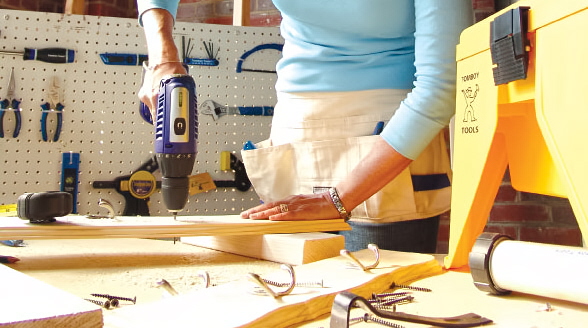 Why Taking Proper Precautions Pays
My husband and I are self proclaimed "do it yourself-ers." We're both pretty handy, and we both love to save whenever we can! We're also Home Depot's dream customer, and often joke that the success of a project is measured by the number of times we have to go back to the store.  But the reality is, if we turned our excitement for each DIY home improvement into a well planned project, not only would we save extra trips to Home Depot, we'd be much less at risk for getting hurt!
I have to admit, there are times I've questioned my own judgment when it comes to safety – like the time I was home alone and climbed a 10- foot ladder while I was 8-months pregnant… I mean, how often do freak accidents really happen anyway?
Safety First!
Well…  According to the Home Safety Council, a non-profit based in Washington D.C, nearly 20,000 people die each year from accidents involving "do it yourself" projects.  And while it isn't likely you'll die, the chances of getting hurt for not planning ahead and taking proper precautions are pretty high. –One in five people is injured fixing something around the home!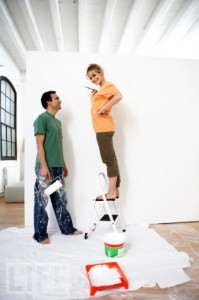 We are certainly not trying to scare you into hiring a contractor! It's totally Fab & Fru to fix things up at home without going to the expense of hiring a professional – as long as you know what you're doing and avoid a costly accident!
40-million people do 60-million projects around their homes each year- saving those handy home owners a pretty penny.  However, 21-million of those people ALSO end up making a costly and painful trip to the hospital!  The Home Safety Council surveyed some of those injured DYIers, and 50% say they knew there was probably a way to avoid their injuries. but they just weren't sure how…  That's why the Home Safety Network has teamed up with 3M Tekk ProtectionTM to teach people what they call the three E's!
Education- Ask Questions!
It's MAJORLY important to have a plan when you tackle a project.  If you don't know what you are doing and everything that you need to get the task done right, the tendency is to get sloppy.  So if you're not sure…  ask!
My husband and I rarely ask questions, which is why we are constantly making trips back and forth to the store.  And it is a blessing that neither of us have suffered a serious injury.
Ask Yourself!
Will you be sanding?  Painting?  Standing on ladders?  Using power tools?  Even if you are just mowing the lawn there are tools you need to protect yourself.  For example: it's recommended that you wear earplugs if you are working with equipment that operates above 85-decibels. The average lawnmower operates at 95-decibels so mowing the lawn can lead to gradual hearing loss if you don't protect your ears. Who knew?  I didn't, and the last thing I need is for my husband to hear me less than he already does!
Engineered Devices
3M and other companies have invented all kinds of nifty tools to keep us safe… like earplugs for example! From now on my hubby will be wearing these to mow the lawn!  3M even has a new device called Work Tunes which is a headset that blocks out the noise of trimmers, lawnmowers, power tools and sanders, but it also lets you listen to the radio or your MP3 player (Fab & Fru will be giving a set away next week)!
And speaking of dust, when was the last time you wore a mask when sanding or painting?  Admittedly, I don't… Many of the masks are uncomfortable, and if they loop over your ears they aren't even blocking out the dangerous particles.  You want a mask with activated charcoal which will absorb fumes and particles. They've also designed them now so you won't get hot, sweaty and claustrophobic so you are less likely to take them off.  Masks are so important because it may not feel like you are hurting yourself to sand or paint without one, but those particles and fumes can cause long term damage to your respiratory system and more.
Eyewear
The final E is Eyewear.  Wearing sunglasses to mow the lawn just won't cut it.  If the lawnmower hits a rock it can come at your eye at over 100-miles an hour, shattering your glasses and potentially your eye!  Getting paint in your eyes can cause a chemical burn, and sanding without goggles can scratch your eyes and cost you a trip to the doctor.
The biggest reason people don't wear protective eyewear is because the goggles are just so ugly, so this year 3M hit fashion week in Milan to design protective eyewear that actually look like sunglasses!  Is it a new fashion trend?  Look for other manufacturers to follow suit.  That way, just because you're playing it safe,  you won't have to look like a geek in front of your neighbors…
DIY Reality Check!
All this information has been a pretty big reality check for me, and from now on both my husband and I will be plugging our ears and protecting our eyes during all our home maintenance and DIY fix it plans.  As much as we love to save money, we absolutely think that planning ahead – and investing a few extra bucks to put safety first – is money well spent!
|
Print