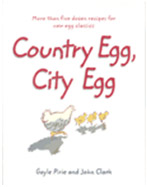 SIGN UP for our Fab & Fru Fridays, and you'll be AUTOMATICALLY entered to WIN a "Country Egg, City Egg" COOKBOOK  from Executive Chefs Gayle Pirie and John Clark!
Describing eggs as "the ultimate and purest fast food," Gayle Pirie and John Clark set off on an enticing culinary journey through 78 recipes in "Country Egg, City Egg", with whimsical drawings by Rollin McGrail adding to the fun. Chefs Pirie and Clark enchant readers with eggs elegantly embellished with caviar, easily scrambled with pesto, simply rolled inside a warm tortilla, gently slipped into chicken broth for comforting Zuppa Pavese, and whipped into a frothy, champagne-spiked Sabayon Sauce to serve with fresh berries!
So Sign Up NOW & you'll be INSTANTLY eligible to WIN A COPY of this Egg-licious cookbook! And once you've registered on Fab & Fru, we'll automatically enter you to win our Giveaway each week!
|
Print