by Brandi Savitt – November 10, 2010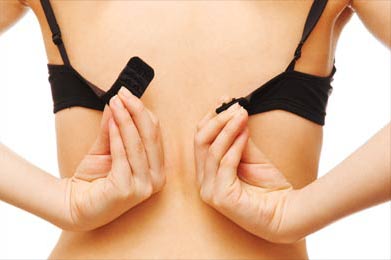 Save Big No Matter Your Cup Size
Whether you wear an A cup or an H, every woman, at one point or another, wishes her breasts were bigger, smaller or perkier (hence all the boob jobs)!  For me, it all started in 7th grade Spanish class when Jeff Dane would do his daily snicker about how Wendy Banks and I had to wear bras.  That's right, somehow during the summer between 6th & 7th grade, I went from a training bra to wearing a C cup!
In the days of middle school, when the last thing you want is to stick out (no pun intended), Wendy and I tried to do whatever we could to deny that womanhood had descended upon us.  As my 7th grade plight to flatten my chest began, so did what would become my eternal search to find the perfect bra.  Through high school, college and ALL the way up to last year when I walked into Iris's Lingerie on Atlantic Avenue in Brooklyn, I really had no idea that just one proper bra fitting would not only end my search, but it would change my life forever.  If I had only listened to Oprah sooner…
Get Fitted!
No matter your bra size, getting properly fitted will not only change the way you look in your clothes, it will save you money because you'll stop WASTING money on buying the wrong bras and buying too many of them!
The credo of Iris Clarke from Iris's Lingerie is: "It starts with the right foundation!" Properly fitted undergarments make all the difference in the way a woman's outfit appears.  Iris estimates that roughly 85% of women wear the wrong bra size – which means they are wasting money, they are unhappy with the way they look and they are not properly supported!
Does Getting Fitted Mean Spending More?
The answer is: Sometimes – but only in the short term.  Most lingerie shops or department stores that offer fittings don't typically charge for the service.  However, they often carry higher end brands.  But paying more for the PERFECT bra WILL pay off.  It did for me!
Iris fitted me in three – pretty pricey – Prima Donna bras, and not only did I discover my long lost undergarment soul mate, I have not needed to buy new bras in over a year!  Amazing how much the right fit and the proper care can save you!
Five Bra Shopping Tips
If you have already been fitted and know your true bra size, you might be ready to venture back out and shop for bras on your own. Style Expert & Bra Gal Jené Luciani gave us five Fab & Fru bra shopping tips from her book The Bra Book!
Shop at a Store that Carries a Variety of Brands
Choose a store that has a wide selection of bras and trained bra fitters on hand.  Re-measure yourself first as a guideline, especially if shopping online.
Carry a List
Go to the store armed with a list of what you need and plan to buy: i.e., two nude t-shirt bras, two black bras, one strapless, one sports bra.
Get to Know Your Body
Be aware of your body type so you know what bras to look for. For example, if you are more of a top-heavy "apple," you likely will be looking for fuller coverage bras, not demi-cups. Wear or bring a thin t-shirt to the store so you can see what each bra looks like under the sheerest of circumstances.
Keep an Open Mind About Your Size
If you're surprised (or disappointed), remember that size is just a number – or a letter! The proper fit of the bra is the most important thing!
Get Critical
Don't be afraid to put the bra on and face yourself in the mirror with a critical eye. If you see any gaps, spillage, digging in, or other signs of poor fit, it's not the right bra. Turn around and look at the back as well. The back band can be very telling too when it comes to proper fit.
|
Print
Pages: 1 2