by Kathy Pape – November 15, 2010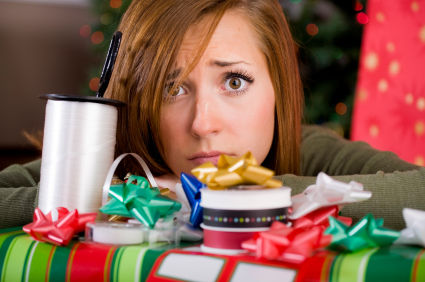 Stress Alert: Buyer Beware!
Several years ago, I was shopping for my Thanksgiving groceries when I realized just how angry and stressed all of the holiday shoppers seemed to be.  I was at a small Whole Foods in a tiny town where the aisles were narrow, and it was very crowded.  I was rammed with a cart, pushed out of the way and snapped at.  I remember thinking "What happened to holiday cheer?  We're in Whole Foods of all places, aren't people here supposed to be Zen?"  Now, I'm not one of those people who typically gets stressed out during the holidays, but when you're around negative people, their unpleasantness tends to become contagious!
Whether it's the stress of wanting to create the perfect Martha Stewart holiday, or the sudden pressure to escape the angry shoppers at the store, we have seen way too many times how stress can lead to overspending – not to mention ruining your holiday fun.
So, what can you do to keep your anxiety and your spending in check this holiday season?   Check out these six easy tips from relaxation guru Marlise Karlin! Marlise is an internationally renowned spiritual teacher and the founder of The Simplicity of Stillness Method®.  In true Fab & Fru style, it turns out you don't have to spend a ton on meditation classes to reap the benefits of chilling out!
Be Aware of Your Attitude
This is what the people at the grocery store had no awareness of…  They were projecting all this negative energy and, in turn, the rest of us were giving the same attitude right back!
Take a minute and acknowledge how you feel and how you're radiating those feelings outward.  If you have a positive attitude, people will not only gravitate to you, but your positivity might even help change the moods of other for the better.  If you are projecting love, generosity and hope, others just may get the hint and return the sentiment. So when someone rams you with a grocery cart, smile and say, "I'm sorry!  Was I in your way? Have a Happy Thanksgiving!"  That ought to throw them off!
Get Moving
Shopping for gifts does stress me out.  I get claustrophobic when the stores are so crammed with decorations, merchandise and people and I panic.  This is not good for saving money!  There have been times when I've ended up just grabbing random things off the shelf, instead of taking the time to look for the things on my list.   What a money suck – all to get out of the store as fast as possible…
Marlise says sometimes we have so much pent up anger and frustration that we have to find ways to physically release the tension from our bodies. If necessary, change your physical location by moving away from the crowded sales rack.  Go take a walk around the perimeter of the mall before making rash decisions or giving up completely.   Stop and get a coffee, do some people watching or even put some calming music on your iPod to drown out the Christmas carols.  When tension, frustration and anger starts to boil, remove yourself from the situation and get your heart pumping, so you can regain focus and finish the tasks at hand – on budget!
Make Choices
Picky relatives can sometimes derail a holiday.  If you have an aunt who is complaining all the time, or the family is arguing over where to celebrate the day, just acknowledge that you have the ability to make your own choices and move forward in a positive way. If people are causing drama or driving you crazy, make a conscious choice to ignore it.  Set your path and choose what keeps you happy.   Remember: anyone who wants to join you can, but if they want to be miserable, they can do it somewhere else. Staying happy and balanced will give you the greatest rewards – and the best holiday!
|
Print
Pages: 1 2