by Brandi Savitt & Stephanie Berenbaum – November 3, 2010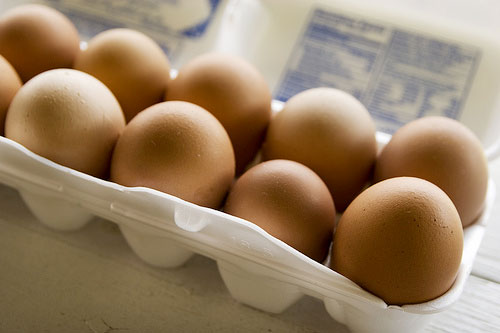 The Egg-onomics of a Perfect Food
The Incredible Edible Egg
Never again will you mindlessly grab a carton of eggs without giving them a second thought.  From now on, we hope you'll give some props to nature's superfood!  Sure, it has had the same packaging for millions of years, and you may have seen them misused as decor this past Halloween, or been cross with them when they accidentally broke in your shopping bag, but it's time to stop and rethink our attitude about eggs.
With all the hullabaloo about midterm elections and the direction our country is headed, isn't it refreshing to know there are still some simple answers to big problems – sitting right in front of our eyes! They may not balance the budget or legalize marijuana, but the humble egg can help you feed nutrition-packed meals to your family, even when you don't have a gourmet budget!
Besides being delish, eggs are nutritional powerhouses in a handy 70 calorie package – seriously, wouldn't you rather eat an all natural, farm-fresh egg than a pre-packaged, processed 'nutritional bar' type snack?   I used to see the commercial touting the 'incredible, edible egg' all the time as a child, but it wasn't until I was an adult that I really understood what they meant.
Cheaper by the Dozen
Eggs are one of the most inexpensive sources of protein you can buy!  At our local grocery, even high-end Organic eggs are only $4 a dozen – or 33 cents per egg!  Eggs also keep for a long time when refrigerated, adding to their awesome value.  Though I often have produce that goes bad seemingly overnight, rarely have I had eggs that have gone to waste.
Egg-cellent Recipes
Ok, so besides the basic scramble or the on-the-go snack of a hard boiled egg – here are some of our Fab & Fru favorites:
The ELAT Sandwich- Egg, Lettuce, Avocado, & Tomato
Brandi's egg-centric twist on the classic BLT, is a tasty, healthy & satisfying sandwich to enjoy morning, noon or night!
Also, for a ready-to-go simple snack, try keeping hard boiled eggs on hand in your fridge so you'll always be ready to whip up a protein packed treat.  We love it with a little mayo on toasted whole grain bread.
This classic Roman egg drop soup is easy and cheap to make, plus it is absolutely delicious!  Most people tend to only enjoy Stracciatella in a restaurant, but Brandi's hearty version is a meal you can easily make at home!
|
Print
Pages: 1 2