December 1, 2010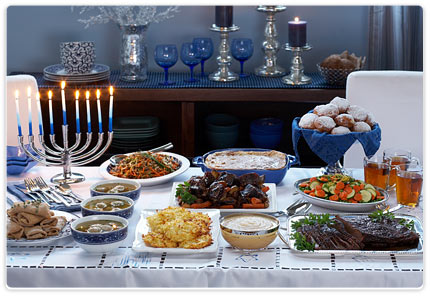 A Festival of De-Lights!
While Brandi's Jewish side of the family celebrated Hanukkah by putting up a Christmas tree and eating Chinese, I recently dug up an issue of Bon Appetit magazine that my husband and I were featured in a few years back.  I looked at it with a bit of nostalgia – I was pregnant with my first son, and we had agreed to be featured in a story they were doing about a Hip Hanukkah Cocktail party.  Looking back on the story, what struck me wasn't just how pregnant I looked (you always think you look better than you do…) but that two of our favorite holiday recipes were totally Fab & Fru!
No matter what religion you are, we can all enjoy a holiday that calls for delish dishes fried up in oil!
Mini Sweet Potato Latkes -Fry Up a Fab & Fru Feast!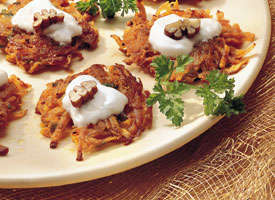 Yes, of course Latkes are traditional Hanukkah Fare.  But given that their main ingredient is the humble potato, they are an affordable treat great for any cocktail party!  For a sophisticated twist on the traditional latke, try serving these mini sweet potato latkes at your next shindig – "Mini Sweet Potato Latkes with Spiced Crème Fraiche and Pecans" sounds – and tastes – anything but cheap!
*Makes About 48 Mini Latkes
1 8-ounce container crème fraiche or sour cream
2 ¼ teaspoons ground cumin, divided
½ teaspoon cayenne pepper, divided
2 ¼ pounds red skinned sweet potatoes, peeled
1 ½ cups diced onion
3 large eggs
6 tablespoons all purpose flour
¾ teaspoon salt
¼ teaspoon black pepper
Vegetable oil for frying
48 Candied or Spiced Pecans
(You can buy candied or spiced pecans or save a few dollars by easily making them).
Blend Crème Fraiche, 1 teaspoon cumin and ¼ teaspoon cayenne in a bowl. Cover and chill – (can be made a day in advance).
Line large sieve with kitchen towel.  Finely grate potatoes into towel.  Gather potatoes in towel and squeeze out all liquid.  Place dried potatoes in large bowl.  Mix in onion, eggs, flour, salt, pepper and remaining 1 1/4 teaspoons cumin and ¼ teaspoon cayenne.
Pour enough oil into a large nonstick skillet to coast bottom.  Heat over medium heat.  For each latke, drop one generous tablespoon batter into the skillet and press with spatula into 1 ½ inch round.  For goodness sake be careful! For those of you have done his before, you know when things really get hopping – beware of hot oil splatters and keep kids away from the frying portion of the evening!
Fry until golden and cooked through – about 5 minutes per side.  Transfer to paper towels to drain.  Repeat with remaining batter, draining off liquid that accumulates in batter and adding oil to skillet as needed.  Can be made one day ahead – arrange in single layer on baking sheet, cover, chill.  Rewarm uncovered in 350 degree oven until crisp. About 15 minutes.
Top each latke with a dollop of crème fraiche and one pecan – and voila – a non- traditional Hanukkah treat perfect for any cocktail party!
|
Print
Pages: 1 2