by Stephanie Berenbaum – December 16, 2010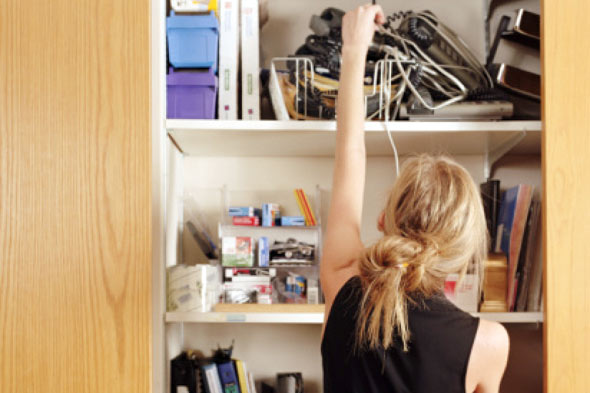 Time, Money & the Pursuit of Organization
Scheduling in a little organizational time, will not only help you de-clutter your life, it will help you save money- all while gaining more hours in the day!  But if you're anything like me, staying organized is easier said than done…
Oh sure, I go through periods of serious hyper-organization, but then it all too often seems to fall apart.  Having my home office in my kids' playroom doesn't help the matter any, but to blame my chronic disorganization on two preschoolers may be a bit of a cop out…  So, my New Year's resolution this year (as it is most years) is to finally get organized with a system that I can actually easily maintain!  Given that I am such a proponent of professional help in other areas of my life, it's no surprise that I turned to professionals for help on this subject!
To lead me to a path of organizational freedom, I consulted with organizational expert Danielle Novi Heller!  Danielle is the creator of the Smart Solutions Toolkit for Working Mothers - and I find that a lot of her tips apply to working women whether they have kids or not!
Designate A Weekly Preparation Day
Utilize a set time once a week (Sundays seem to work for most) as weekly preparation time.  This is when the majority of organization and preparation for the 7 days ahead should take place.  This includes planning your schedule, reviewing your calendar, planning meals for the week, and organizing who is responsible for what tasks (both at home & at work). I am always amazed at how even a concentrated 30 minutes of my time can be so effective!
Meal Planning
Using a weekly meal planner can be particularly helpful when you have a gaggle of kids!  And even if you don't, we all know planning ahead can help save big bucks.  There is actually a weekly meal planner in the Smart Solutions Tool Kit – and you can check out a sample of it on her website.  Creating a shopping list based on your menu for the week will not only save you time, but planning ahead also helps families eat healthier & save money! As we all know, it is often last minute, rushed meals which are the unhealthiest and/or the most expensive!
Weekly Meal Prep Shelf
This may seem uber-organized (and it is!), but Danielle actually advises clearing out one shelf of your dry goods cabinet and designating it as your 'weekly meal prep shelf'.   Danielle uses that shelf to organize the dry goods for the week's lunches, dinners and snacks.  She likes to pre measure dry goods, like rice, for dinner and pre-pack kids snacks, like pretzels.  Then when  packing lunches in the morning rush, all you have to do is gather refrigerated items and you are good to go!
Of course, dinner is also streamlined by pre-measuring ingredients.   Just make sure you label your food after measuring it so you don't forget how much is there – the last thing you need is to create unneeded chaos for yourself!
Preselect Outfits for the Week
For many women, getting dressed in the morning is not only challenging, but also a huge time stealer!  Danielle swears you can decrease your morning stress by utilizing a weekly clothing planner, like the one in her kit.  And of course if you have kids, planning their outfits in advance will reduce stress and save loads of time.  Hello – why is it that every Saturday morning I am frantically searching for Noah's soccer shin guards and team shirt? Seriously, it's like a deja vu I just can't shake…
Many parents report that getting their younger children dressed in the morning is a major source of conflict – particularly if you have a budding fashionista on your hands!  Danielle recommends using Days of the Week Labels to organize your child's wardrobe for the upcoming week.  Another idea for decreasing morning stress is to lay out the outfits for the week and allowing your child the choice of which day they wear which outfit.
|
Print
Pages: 1 2