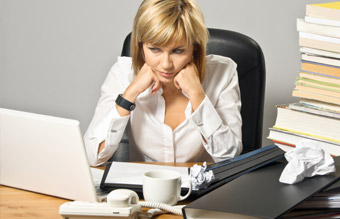 We know what it's like to be busy; sometimes, our head runs in circles with so many things we should be doing that we lose track, of, well, what we should be doing. One bad habit we used to have was going to extremes in the way we checked on our financial life. Sometimes, avoiding our long to-do list turned into checking the stock market compulsively or logging in to see our credit card transactions many times per day, even though we hadn't made any extra charges. Other times, we'd get so busy that we'd stop checking in altogether, because keeping track of our finances became just another chore on the lower rungs of our schedule. Then, of course, we'd stress out once per month when our bills came in.
Instead of falling into that trap, we want you to achieve a healthy balance that's neither compulsive nor negligent—and, most of all, not stressful. So, we bring you the LearnVest guide to a healthy everyday thought process around money.
Here's how we suggest scheduling your financial check-ins:

(generally when you get in for the day or around that 4 pm coffee break)
Go through your emails.
Open all bank notifications you've received via mail or email.
Take a quick peek at the financial markets, if you follow them.
Don't let the due date of any bill pass you by; if it's due today, make well and sure it is paid on time and in full.
For more tips, go to LearnVest!
Follow LearnVest on Twitter @LearnVest! Follow Fab & Fru on Twitter@FabandFrugal!
|
Print