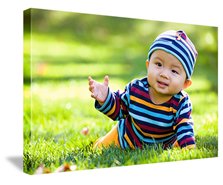 LIMITED OFFER at CanvasOnDemand.com!  Use Promo Code SNOWMAN25 & get 25% off orders placed NOW- midnight Thursday 12/9!
NOW through Thursday Dec. 16th, Midnight:
SIGN UP NOW for Fab & Fru Fridays, and you will receive AN ADDITIONAL promo code- good through 1/15/11- for $10 OFF at CANVASONDEMAND.COM in this Fridays' newsletter!
GIVE A PERSONALIZED FAB & FRU GIFT this holiday season!! Canvas On Demand takes YOUR prized photograph and transforms it into an amazing canvas work of art! You have two rendering options to choose from: PhotoRealistic, bringing your photo to full life even more vivid than the original, or BrushStroke, which makes your photo appear to have been produced by delicate strokes of an artist's brush. The canvas can simply be stretched and framed to your specifications, or it can be Gallery Wrapped, stretching the canvas over a wooden frame so that the edges of the material are drawn around it, turning your photo into a beautiful piece of art!
More Reasons to Use Canvas On Demand:
Ships in 3-4 Days
Free Image Enhancement
Free Gallery Wrapping
Free Consultations
Any Size
Five Star Customer Service
Sign up now for the Fab & Fru newsletter and you will receive great deals like this EVERY WEEK!
|
Print