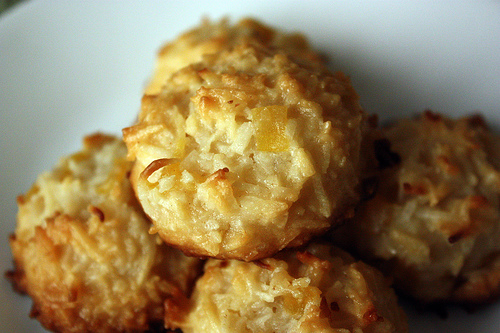 *Recipe courtesy of Whole Foods
This recipe was so simple to make, I made it while my kids were tugging at me, whining and drawing all over each other with a Sharpie!
5 egg whites at room temp
1/8 tsp salt
2 cups unsweetened shredded coconut
1 cup finely chopped sweetened dried pineapple
1 cup white chocolate chunks
1 tsp vanilla extract
Preheat oven to 350. In large bowl beat egg whites and salt with electric mixer on medium speed until stiff peaks form about 2 minutes (it took me a little longer than this, but it did work!) Gently fold in coconut, pineapple, white chocolate and vanilla.  Drop mixture in 2 tablespoon portions onto parchment paper lined baking sheet an inch apart.  Bake until set and golden brown on bottom, about 15 minutes.  Serve warm or at room temp – can be made 3-5 days ahead and stored in airtight container.  This recipe makes 24 cookies for 23 cents each!
Edible Snowflakes
Macaroons are not just for the Jewish holidays, they are perfect for all winter Holidays because they look just like snowflakes! Add some Fab & Fru flair to your holiday entertaining, by making some macaroons and labeling them"Snowflakes"!  Bring some snowflakes as a hostess gift to your next soiree- they're sure to be a big hit!
Snowflake Sundaes
Crumble macaroons (which look like little snowflakes) over vanilla ice cream for a fabulous dessert!  This favorite Fab & Fru dessert idea came from my mother, Nancy.  I have memories of her pre scooping ice cream into little foil muffin cups and sticking them in the freezer – she would then present the ice cream 'snowballs'   on a platter.
The display really looks quite elegant – even though it's just ice cream! To top it off, just add the crumbled Snowflakes and voila – mini 'Snowflake Sundaes' for your guests to enjoy!
|
Print