by Brandi Savitt – December 9, 2010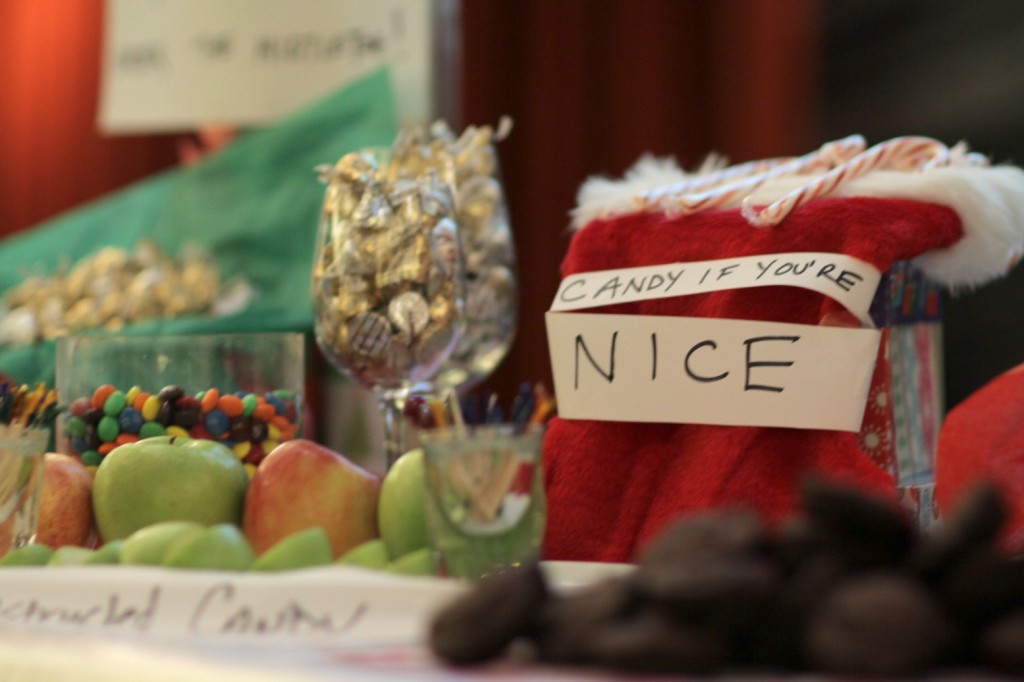 Use What You've Got in More Ways than One
Throwing a festive holiday get together can become a pricey endeavor if you're not careful.  The cost of all the food, drinks and decorations can really sock a punch to your holiday budget.  But don't worry – there is NO reason why you can't have a fabulous bash without spending a fortune.  Stretch your party budget to the max by getting resourceful and creating the ultimate Fab & Fru party experience for both you and your guests!
Use What You've Got!
The key to decorating is to MULTI TASK every element of your party.  From edible decor to transforming everyday items that you already have at home into decorations, you can get the party started WITHOUT spending a bundle!
Wrap Your Table Like a Present
If you have wrapping paper remnants lying around, don't let them go to waste!  Use them to design a festive table cloth instead.  Just create a runner with a longer piece of wrapping paper, and then use the smaller pieces and scraps to create a unique collage of different colors, patterns, metallics, trees, Santas, or whatever combination you fancy.  Use ribbon and tape a bow to the front of the table to really put the finishing touch on your gifty design!
Create an Edible Decor Dessert Bar
Instead of having a savory cocktail party with tons of pricey hors d'ouvres, theme your celebration around dessert instead.  And the good news is- there's no need to bake for days or purchase gourmet sweets!  You can creatively – and easily -  arrange a Fab & Fru array of tasty treats that will also double as your decorations!
Fill Your Good Glasses with Candy
You may not want thirty tipsy guests walking around the party sipping wine out of your finest crystal, but you CAN use those glasses to create a candy land theme on your dessert table.  Seriously, what good are all those wedding gifts doing just sitting hidden in your cabinets?!  Fill wine glasses, martini glasses and champagne flutes with colorful M&M's, peppermint candies, gold & silver Hershey Kisses- or whatever your favorite candies may be!
Mistletoe & Hershey Kisses
For a fun way to present a simple treat like Hershey Kisses, we love this idea:  Get a tall vase (we like to fill really tall glass vases  with rolls of colorful wrapping paper rolls we have laying around) and hang or dangle some mistletoe, rosemary, kale- anything leafy green- from the top of the vase.  Post up a sign saying, "Get A Kiss Under The Mistletoe" and suddenly instead of boring old Hershey Kisses, you have a sassy conversation starter – and it costs you nothing extra!
Naughty or Nice Brownies
We all love Brandi's famous Fab & Fru brownie recipe – the basics being that you take any store bought brownie mix and melt a bar of good, (65% or higher) dark chocolate into the mix to make for a gourmet tasting brownie at a bargain price!
Ok, but even the best brownies are sort of bah-humbug boring…. So liven them up through presentation!  We like to arrange two Christmas stockings on the table, one with brownies pouring out of them and a sign reading "Lumps of Coal If You Are Naughty!" and the other filled with inexpensive candy canes with a sign saying, "Candy if You Are Nice!" Again, a little creativity makes average, cheap treats seem special!
|
Print
Pages: 1 2