by Brandi Savitt – January 24, 2011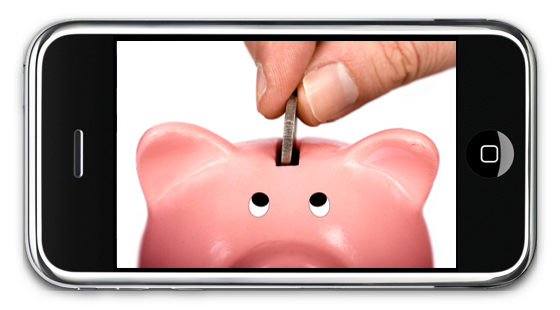 Top Money Tech Tools for Your Phone
Looking for a way to keep your budget straight and pay your bills all while standing in line at the grocery store?  Our friend and personal finance expert Galia Gichon, gathered her clients experiences, did the research (thanks to moneyunder30.com and lifehacker.com), and tried out many of the apps herself, all to brings us her top picks for money apps on the market!
Mint.com
Mint.com is still the personal finance winner overall.  Having millions of users keeps them on their toes with updating technology and security.  They now even have a way for you to track cash!
Pageonce offers basically the same tools as mint.com, but they also offer features such as travel related information, cell phone minutes tracker, email alerts, and comprehensive bill paying system.
ProOnGo. com
The ProOnGo app is for business owners that want a business-oriented tool that will help with tax records and syncing to your American Express card as well!
Envelopes.com
Envelopes is for those of you that don't want your financial information online.  This app is simple streamlined way to finally keep to that spending plan!   A refreshingly simple way of tracking your spending by category.
BillMinder.com
BillMinder is another app for those who prefer not to keep your financial info so readily available.  The BillMinder tool offers constant reminders to help make sure you pay your bills on time!
Pennies
Pennies is another app that lets you perform a budget without the bells and whistles.  Great design.
Easymoney.com
Easymoney is THE personal finance app for Android users!  Includes: speedy transaction inputs, bill notifications, graphs to help you analyze and chart your past and future spending and much more.  The tools for photographing receipts and importing data seem very useful- plus they offer a 30 day trial!
PocketMoney.com
Pocket Money offers a sweeping view of all your accounts and transactions.  One huge benefit is that it is compatible with PCs– for all you non-Mac users!
Save Benjis.com
I love the Save Benjis app!  For you comparison shoppers, this app let's you instantly compare prices right when you are shopping.  Just don't use it to shop more!
Thanks Galia for all the Fab & Fru- easy to use- tech tips!  Now go app up your iPhone, iPad, or other smart phone gadget, so you too can better organize your finances on the go!

|
Print