by Stephanie Berenbaum – January 28, 2011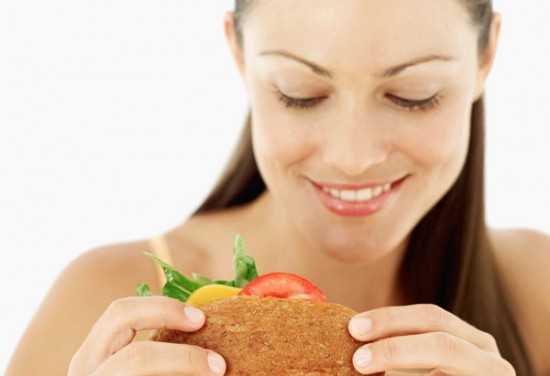 Eating Real Food Yields Real Results
You can't turn on the TV without seeing ads for weight loss plans based on expensive pre-made meals delivered right to your door.  The problem with some of these meals of convenience, as well as many store bought frozen foods, is not just the price – it's the ingredients!  The truth is, many of them have more additives & preservatives than they do actual good for you food.  Sure, maintaining a healthy weight is important for optimal health, but if your minimal calorie meal is more like a mouth full of chemicals, well – that should be enough to make you lose your appetite all together!
The Accidental Diet
We know, we know – you think that your perfect cousin Ashley with the insanely high metabolism is the only woman on earth who actually loses weight without trying. Wrong!  I personally noticed post-pregnancy pounds dropping off daily when I switched the kinds of foods – and the way – I was eating.  I wasn't actually trying to lose weight – I was just trying to eat a healthier diet, with more organic and whole foods.  Before I knew it, my last 20 post-pregnancy pounds were gone, and I felt better than ever.
Whole-ly Satisfying
First, I starting by eating whole grains at breakfast (actually I never ate breakfast before & starting to changed everything!).  Then I continued by eating 3 more small healthy meals throughout the day.  The key- the portions and the quality of the food I was eating!  The more whole foods I ate, the more weight I lost. I found myself becoming satisfied with far less than it would take to fill me up when eating processed, nutrient poor foods.  Also, in an effort to eat as much simple organic food as possible, a lot of my choices became self-selecting.  Buying fruits, veggies, and organic products with ingredient lists that I could actually pronounce was an easy way to take a step in the right direction- and it didn't cost me an arm & a leg trying a trendy diet program!
I Love Mexican Food
Love Mexican food? Well, you can still have your burrito and eat it too!  But you DO need to realize there is a difference between running out and buying a burrito at Taco Bell and making one yourself at home.  I am personally addicted to burritos, in particular the ones I make myself using Amy's Organic Light in Sodium Refried Black Beans.  Seriously – I eat a lot of the stuff.  But I have to tell you when I put them in organic whole wheat tortillas, and use organic sour cream, cheese and veggies, I actually enjoy it more.  I've noticed that I also take my time and eat more slowly when I feel like I'm respecting my body by giving it real food.
Amy's Diet Plan
Because of large quality of Amy's Organics products that I personally consume, I found myself checking out their website.  I was surprised to learn that they actually have their own FREE online Diet Plan - was this an organic version of Jenny Craig- without the mark up?
With the help of Sonoma County dietician, Jill Nussinow, Amy's created The online Amy's Diet for those of us health conscious eaters who need a little kick in the pants and some extra help controlling portion sizes.  Amy's Diet offers free online plans & choices for vegetarians, vegans, sodium conscious dieters, diabetics, people with allergies, and those who want to eat gluten free!  The site is packed with healthy eating & exercise tips, as well as weekly plans to jump start weight loss program.  And the best part–you don't have to sign up or pay a fee to join the program!  All the info is right there… - but if you want to enjoy their products, you are going to have to go out to the store and buy them!
Small Changes For Big Weight Loss
The good news is you don't need to completely overhaul your entire diet or spend a ton of cash on books and weight loss programs to start shedding those extra pounds.  Instead of focusing on losing weight, focus on becoming healthier and striving to feel better than ever.  By becoming more aware of your food choices, choosing quality organic whole foods, and making time for basic exercise, you just suddenly may find yourself becoming a happier, healthier, skinnier version of you…Now that's Fab & Fru!
|
Print