by Stephanie Berenbaum – January 6, 2010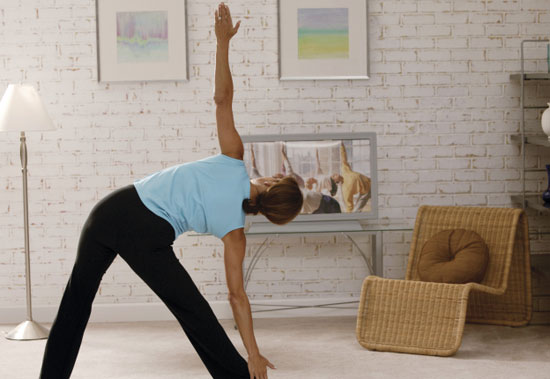 Are at Home Workout DVD's Worth the Investment?
Okay, I admit it- I am a January Joiner- gym joiner that is…. I'm the reason that the yoga class you usually go to gets packed to the gills this month — and then empties out again in February… In more years past than I care to admit, getting in shape has been at the top of resolution list only to sink to the bottom (make that my bottom) after a few short weeks.
Like so many Americans, I have often plunked down loads of cash in gym memberships and expensive equipment, which goes largely unused by the time President's Day rolls around. My personal favorite was last year when I spent $100 for a month of unlimited classes at a local fitness studio (I swear I was going to go every other day – what a deal!) and yes – you guessed it – i went ONCE. And once again, my BIG resolution is to get fit, but this year I vow to do without leaving my wallet thin!
Samba Your Way to Svelte?
As many of my friends know, I am often up for a couple hours in the middle of the night. It's the only time when my house is quiet, and I find I am actually quite productive between approximately 2 and 4 am. You know who else is around to keep me company in those wee hours? Infomercials! Usually I like watching them because they make me laugh. But a few weeks ago I clicked through and loved the music and stayed. It was … Zumba Dance!
For those of you not familiar with it, Zumba is a Latin-dance inspired fitness routine. While you can go to actual Zumba classes at the gym or a studio, this infomercial was for their at home DVD set- ding ding for me! Trust me, at home workouts have come a long from the days of Jane Fonda & Richard Simmons 'Sweatin to the Oldies'!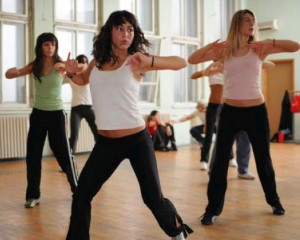 The Price is Right
I was intrigued. I am not really a class person because I'm not willing to carve the time out of my busy day to sit in LA traffic for 20 minutes each way for a one hour class. But when the $59.95 price ticket flashed on the TV screen for Zumba, I jumped. I could dance my way into shape without having to cough up the cash to join a gym or leave my house – PERFECTO!
My Inner Diva
Last week when I went to get the mail, there it was – the box from Zumba, full of my fitness fantasies! My kids were out of the house, I was ready for a break from work, and I needed an energy boost. First, I prepared for any possible humiliation by closing all shutters and locking all doors. I then stood in position and hit play. The second the music started, I knew I was hooked! And I swear, even ten minutes into my workout as I was attempting Charo-like moves right in the comfort of my own living room, I didn't feel like I was killing myself to get through another boring routine, but rather, I REALLY felt like I was dancing! Plus, I got to harness my inner Latin diva, something this Midwestern Jewish girl doesn't get to do very often…


Invest in Yourself
The costs? First off, there was an immense cost savings to my pride that I did not have to do this in a class full of other people. Secondly, at only $60 bucks, it breaks down to $5 a month – now that's Fab & Fru! If i can get fit for the price of a Latte, this will truly be a money-saving miracle! And even though it has only been a week, I have to admit I am seeing results and feeling better already. So far, Zumba seems like a good investment in my body and for my finances.
Before this article starts sounding like an infomercial for Zumba in and of itself, I should mention that I did invest a little more money (well, another 60 bucks to be exact) on the Mari Winsor Slimming Pilates program. Now before you think that actually I have just turned into an infomercial junkie who spends all my money ordering 'as-seen-on-TV' products in the middle of the night – let me assure you – I only ordered these two (no Snuggies – I promise) and only because they are two totally different workouts.
At $120 total investment so far, I still feel Fab & Fru about my fitness finds. I'll be honest, I haven't actually tried the Pilates program yet – so the proof will be in seeing if I actually get into the workout, or if it becomes just another casualty in my workout graveyard. All that said, check back with me in a few weeks, and I will let you know if I am still the Salsa Queen, if the Pilates box has been used for more than a roost for my Maltese, and if my at-home fitness DVD's have really been worth the investment…OLE!
|
Print