by Kathy Pape – February 14, 2011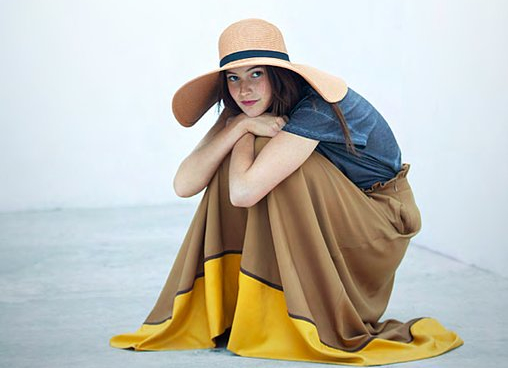 Fashion Week Inspires Spring Shopping

New York is buzzing with activity as designers get ready for Fashion Week!  All eyes will be on the runways to see what's going to be hot next fall, but ladies, we need some immediate gratification! Personally, I want something to wear right now, because spring is right around the corner!  Stylists to the stars Saba Salehi and Laura Schuffman have five quick ways to update your wardrobe. Here comes the sun!
Return to 70's
70's inspired clothing is back with a vengeance. From maxi dresses, flared pants, white trouser suits and tunics, the 70's are everywhere!! The trick to making this trend modern is to pair it with contemporary day accessories.  Don't do a 70's outfit with vintage jewels! A fabulous place to find 70's inspired clothing at a frugal price is TopShop, and if you want to splurge Tory Burch has some cute pieces too.
Longer Hemlines
If you're over a certain age or didn't stick to your New Year's resolution to go to the gym, you'll be happy to know that hemlines are longer this season! That doesn't mean less sex appeal, but it means you can be subtler about it. Wear longer skirts with super high slits and sheer fabrics over shorter hemlines. Saba and Laura love pieces from Tommy Hilfiger and Rebecca Taylor.
Pajamas Dressing
With this trend I will fit in when I drop my sons off at school each morning! Casual clothing is getting a face lift this season. From silk pants to printed cottons the looks are flowy and comfortable. Some designers we like are Michael Kors and Urban Outfitters. And seriously don't mistake what we are saying – we are NOT talking about wearing those 'As Seen On TV' Pajama Jeans out of the house!
Full Skirts
Skirts are making an elegant and sophisticated return and this means we get to play dress up and feel really girly. Classy and chic full skirts made their debut on designer runways and they look great paired with blouses or even a tank. Our favorite designers for fabulous skirts are Marc Jacobs (fab) and Zara (frugal)!
Borderline Bell Bottoms
Whether it's a trouser or jeans, the high-waisted, wide leg is back. When you choose a flare jean Saba and Laura say it's best to have it super snug in the leg so it's the most flattering. This trend will likely last through spring and summer because skinny jeans are more popular during the winter months so it's a good idea to choose a less expensive brand for this one. We like the 1969 flare jeans from The Gap.  If you really want to splurge Jbrand has some good ones or Alice + Olivia… after all it seems the flare always comes back every few years.
Just Like Being There…
Always wanted to see a show at Fashion Week?  Now you can! The website www.FirstComesFashion.com will be streaming the shows live all next week so you can wear your pajamas and get the same view as Vogue's Anna Wintour… and Saba will be there to give Fab & Fru the skinny on what to buy for next season!
|
Print