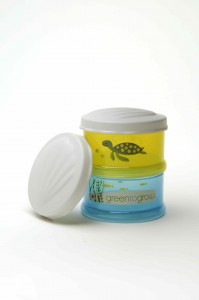 Check out this week's FAB & FRU FIND!
Get 15% Off at Green To Grow when you use the Promo Code: fabandfru15
The decision to launch Green to Grow with a line of bisphenol A-free plastic baby bottles grew from an alarm from reading reports that highlighted the potential dangers presented by polycarbonate plastic, which contains the hormone disruptor bisphenol A—a neurological, developmental, and reproductive toxicant—and from our frustration over the lack of options. Green to Grow believed concerned parents would welcome safer alternatives, even if they cost more due to the higher price of the raw materials used. And to ensure the highest level of quality and safety, they decided to have their bottles periodically spot tested for bisphenol A, phthalates, and lead at an environmental laboratory in Chicago, Illinois.
They learned, in their efforts to serve as stewards of health and wellbeing for babies and children, that it is impossible to separate what is best for babies and children from what is best for the earth. To this end, they are committed to seeking environmentally sound business solutions and consider the environmental impact of every decision we make!
Sign up now for the Fab & Fru newsletter, and you will receive great deals like this EVERY WEEK!
|
Print