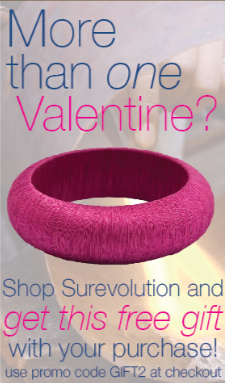 Check out this week's FAB & FRU FIND!
Shop for unique jewelry, house goods & fashion accessories at SURevolution & receive a gorgeous rolled silk bangle with ANY purchase!
Just enter in Promo Code: GIFT2 -now through February 11th, 2011!
SURevolution is inspired by the culturally rich artisanal world. Their mission is to create sophisticated products for the luxury market that honor artisans' traditions, craftsmanship and our natural resources. SURevolution's branding efforts are directed towards raising awareness, humanizing trade relationships, working towards the capacity-building and efficiency of the value chain.
The brand, founded in 2005 by Marcella Echavarria, has achieved worldwide recognition thanks to a successful wholesale experience with luxury retailers, and collaborations with well known fashion designers!
Sign up now for the Fab & Fru newsletter, and you will receive great deals like this EVERY WEEK!
|
Print