by Brandi Savitt – February 28, 2011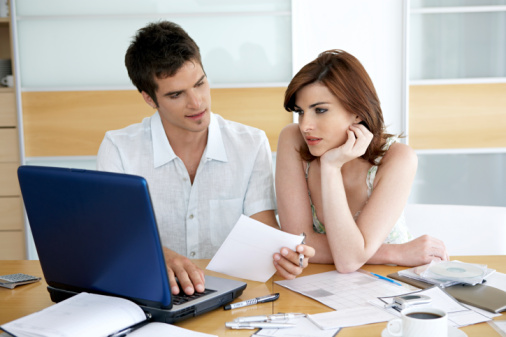 Saving Money on Your Own Terms
For people in debt, the thought of ever achieving financial freedom is almost unimaginable.  Even if you've cut your spending, and your main financial goal is to pay off the interest on you credit card, the basic expenses of life always seem to win out.  And while small steps yield big results, sometimes you need to get creative and take a giant leap outside of the box in effort to regain your financial footing.
Meet Matthew Peters author and Co-Founder of Community Executive Academy.  He and his wife's Fab & Fru story of how they tackled their serious credit card debt head on, by eliminating their biggest living expense of all, is a creative inspiration and a lesson for us all!  Here is their story…
In Over Our Heads
By the time my wife Fiona and I got married, we found ourselves $38,000 in past-due credit card debt. Creditors and collections agencies were hounding us daily, and we became desperate to find a way out…
Creating Our Own Luck
Our financial life changed for the better the day Fiona saw a sign in the window of the office at our apartment complex– they were looking for weekend help. They needed someone to spend four hours on Saturdays and Sundays in the office showing the model apartments, answering the phone and heating cookies for people who stopped in.   In return Fiona received $10/hour and 40% rent discount. There was no real work to do – they just wanted a warm body in the office.  Our $1,000/month apartment ended up costing us about $280/month, and we had finally found a way to reduce our debt significantly!
Turning Odd Jobs into A Debt-Free Lifestyle
Since that experience, Fiona and I have held two positions where we pay nothing for housing. In the second opportunity, we received a two bedroom apartment in downtown Madison, WI for free, and we paid no utilities or parking.  It was actually better than free! It was shortly into this position that we paid off all of our debt and had almost $30,000 squirreled away in a checking account.  It is extremely easy to pay off debt when your living costs are $450/month!
Where We Are Now
Now we have two toddlers and live in a 1,500 sf, 3 bedroom townhouse. We show apartments one month out of the year, forward maintenance calls and pick up litter on the ground once a week.  All said, we spend an average of four hours a month in exchange for a free $1,100/month apartment; no office hours, no answering the phone and no maintenance!
Savings Add Up!
In the last 9 years,  Fiona and I have saved over $125,000 in housing costs!  We have used this money to invest in other opportunities and to not only get out of debt, but to build our savings and our net worth.
With our experience as renters, home owners and as resident managers, we came to realize that we needed to make a shift in our thinking.  Most of us believe that we need to pay for our housing.  But the question isn't "should we own or should we rent," rather it is, "how can we eliminate our biggest living expense?" If you want financial stability, YOU MUST get out of debt and find creative ways to save!
|
Print
Pages: 1 2