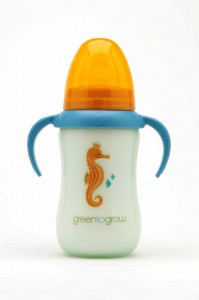 SIGN UP for our Fab & Fru Fridays, and you'll be AUTOMATICALLY entered to WIN A Sippy Cup and Snack Stacker from Green To Grow!
An ecosystem is a group of organisms that work together to create a unit, and that's exactly what Green to Grow's feeding line does. Each item performs on its own and works with other products to enhance its lifespan.  So Fab & Fru! Their Ecosystem Seahorse Sippy Trainer Cup is the perfect choice for transitioning baby from the bottle to the next stage! Includes a soft, spill-resistant sippy spout and a stylish, easy to grip handle. And the Ecosystem Snack Stacker comes with two stackable 4 oz containers and two seashell lids. Ideal for toting and storing snacks – either horizontally or vertically, depending on your needs!
So Sign Up NOW & you will INSTANTLY be eligible to WIN the Green To Grow Sippy Cup & Snack Stackers! And once you've registered on Fab & Fru, we'll automatically enter you to win our Giveaway each week!
|
Print