by Brandi Savitt – February 7, 2011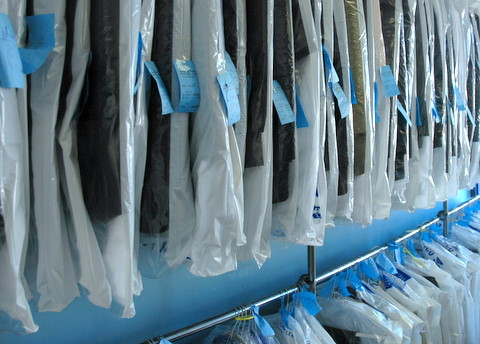 Get Smart About the Clothes You Wear
Most of us don't think twice about the cost of caring for our clothes when we purchase them.  But depending on your wardrobe, your dry cleaning needs may just turn that suit you got on sale for 50% off into one heck of an expensive piece of clothing!  So here are some Fab & Fru tips to help you reduce your dry cleaning bill – without compromising your style!
The Up Keep of Expensive Clothes
The next time you go shopping read the care instructions on the clothing label before you buy the item.  If you're shopping for more casual clothes that you plan to wear often, avoid buying 'dry clean only' materials.  Many garments have a 'dry clean' care recommendation, but you can actually hand wash these items or wash them in the machine on a delicate cycle using mild detergent.  However, suits, most heavy winter coats, some sweaters, anything suede, leather, velvet or fur must be dry cleaned!
Keep Your Clothes Clean
It may sound obvious, but most of us are not as mindful about caring for our wardrobe as we should be…
Put deodorant, hairspray, makeup & perfume on before getting dressed.
Never throw your clothes in a pile on the floor.
Use a garment brush to remove fabric pilling & dust.

Spot-clean stains with an instant stain remover stick.
To remove odors and daily dirt from lighter pieces like slacks and blouses, try using an at home dry cleaning product like Dryel or Woolite's Dry Cleaner's Secret.
Hang up your clothes to air them out for a few hours after wearing them & before hanging them back in the closet.
Launder Your Shirts Instead of Dry Cleaning
If you're sending cotton blouses and shirts out every week for dry cleaning – STOP now!  Unless there is a difficult stain to get out, most collared shirts do not need to actually be dry cleaned.  If, however, you like the ironed and pressed look without the hassle of doing it yourself, have your dry cleaner launder and then press your shirts instead of using the dry cleaning process.  You'll instantly cut your bill in half!
Ignore Care Instructions Carefully
Clothing manufacturers know that people mishandle laundry at home so they play it safe by often labeling clothes 'dry clean only.'  Simple, unlined clothes made of natural fibers or polyester can be washed by hand or on the gentle cycle in cold water.  A front load washer is great as it is more gentle on clothes.  Always lay these items out to dry.  Also, you can do a test.  Wet a interior seam and rub with a cotton swab.  If the color transfers take it to a dry cleaner.
Clip Coupons & Watch for Specials
Most dry cleaners advertise in local mailers and regional magazines.  So, keep a look out for a good deal!  And, if you can, save your end of season dry cleaning until you have a coupon that will knock your bill down as much as possible!  Also many dry cleaners offer bulk discounts, so see if yours offers discount 'pre-purchase' packets.  Also many dry cleaners accept competitors coupons so be sure to ask!
Cleaner Cleaning
Aside from saving money by doing everything you can to dry clean less, you will also be helping the environment.  Dry cleaning releases chemicals into the environment – and of course, into your clothing!  There are more and more 'non-toxic' dry cleaners popping up, but they are often even pricier than traditional dry cleaners.  Your best Fab & Fru bet is to avoid the dry cleaners unless absolutely necessary – your wallet will thank you – and so will the planet!
|
Print