by Brandi Savitt – February 4, 2011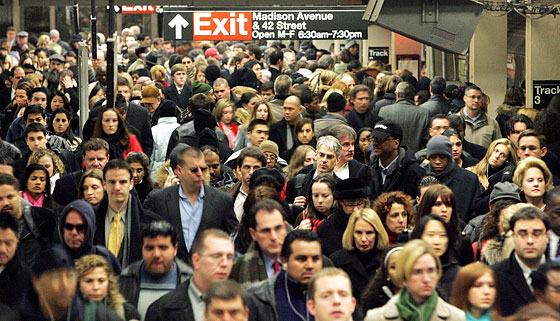 Living Well & Spending Wisely
After living in New York City for over fifteen years, I am constantly told by non New Yorkers- "I could never live in New York.  It's fun and exciting to visit, but all the constant stress is just too much, and it's sooo EXPENSIVE! Urban living is just too difficult:….
Underneath the Hustle & Bustle
To be honest, I always find this assumption rather annoying.  While I can't argue that there are certainly cheaper places to live on the planet, I think many of my non urban dwelling friends would be shocked to learn that I have less monthly expenses than they do, and arguably live a less complicated lifestyle!
While it's true that city life certainly isn't for everyone, it doesn't have to be the stressful money pit that everyone fears.  The reality is, you can get into debt, spend too much money, and be stressed out where ever you live! The city doesn't do that to you- you do it to yourself!  Fab & Fru believes that it is possible to enjoy all that the city has to offer while also choosing to live a more conscious, mindful existence — even in the middle of all the hustle and bustle!
Finding the Right Neighborhood
One of the most difficult challenges living in a city is finding an affordable neighborhood to live where you feel at home.  When I moved to Boreum Hill, Brooklyn over twelve years ago, my neighborhood did not offer much on the amenities front, but there was something about it- a feeling- that I just fell in love with. It was the people.  And somehow even after years of massive gentrification, my now restaurant & boutique filled neighborhood still has that same homey special feeling.  I feel like I live in a small town smack in the middle of a giant city!
So many people move to a neighborhood for location and price, and while these factors are extremely important, if you are looking to simplify your big city life- consider moving to a neighborhood where the people share your similar values and tastes.  From the types of shops to neighborly kindness, living in a place where you like the vibe and the people, will not only make you happier- spending time and money in your own neighborhood actually can help you save money…
Shop Locally
Farmers Markets and CSA's are incredibly popular in most urban areas.  Having the opportunity to buy organic groceries directly from nearby farms is not only a way for city folks to have a taste of country life without getting in the car, but because big cities have so much variety- it is actually easier to save money when making healthy, simple food choices.
Make Your Apartment a Home
We may live in smaller spaces in the city, but that doesn't mean you have to live like you're moving out next week.  Even if you are in a temporary situation, do what you can to make your apartment a home.  Get rid of the clutter, hang those pictures on the wall, and make your space your sanctuary.
It doesn't take much money to turn a house into a home.  Believe me, coming home after a crowded subway ride, to a clutter free, homey environment instantly- will calm your nerves!
|
Print
Pages: 1 2