by Stephanie Berenbaum – originally published October 13, 2010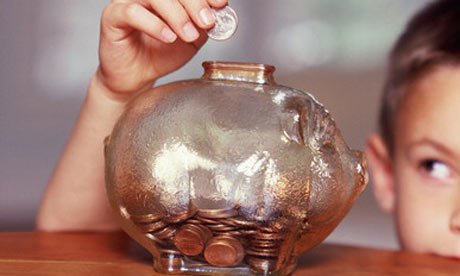 Teach Financial Values to Children of All Ages
Wondering how to teach children about money when you're still working on getting them to do their homework or clean their dinner plate?  It's never too early ― or too late ― to start sharing money lessons with your kids.  According to Women & Co. research, 91% of women are talking about money with their family, and 86% of mothers are teaching their children lessons from the recent economic downturn.
As the mom of two preschoolers, I am always amazed when I hear my boys talk about money: how much things cost, wondering about what 'rich' and 'poor' means, and of course – wanting to buy every toy they see on the shelves!  My kids have no problem talking to me about money, but I often find myself unsure of how to talk about money with them in a way they can understand.
Luckily, Lisa Caputo, Founder, Chairman and CEO of Women & Co., and Linda Descano, CFA, President of Women & Co., offer the following ideas for talking to children of any age about money:
Tips by Age:
Ages 4-6: Children as young as 4 can associate the visible accumulation of coins with the abstract concept of saving.  Shopping at a grocery store with play money is a great way to get more familiar with coins and paper money, and it helps kids to begin to understand what is theirs and what belongs to others.
Ages 7-10: At this age, you can start introducing the concept of receiving a financial reward for performing a specific task such as an allowance. In the fall, children could rake leaves and get paid per garbage bag of leaves.  In this way, they not only begin to understand the concept of saving, but they can also start to apply it.
Ages 10-13: Kids around 10 can begin to understand the concept of credit and lending.  When your children want something that's beyond their small financial means, you could talk about credit and "lend" your children the money for the item, and create an "IOU" before you buy it.  At this point, you could also introduce the concept of interest.
Ages 14-19: The teen years are when kids really want to flex their financial muscle so working a part-time job or setting up their own business offers great opportunities for learning.  Another approach is to give children a lump sum payment for possibly a vacation or summer break and allow them to allocate their funds throughout the set time period.
College students. As your children become young adults, it's time to talk about investing, and managing debt, particularly as credit card offers begin to pile up in their mailbox.  It's also important at this stage to impart that saving for an unexpected event, such as a job loss or change careers, is a must.
And Even Tips for Twos…
In addition to these tips, I have to say that I also think that even very young children can grasp some financial concepts.  My youngest son, who is only 2 ½, brings in money to donate to charity every Friday at school.  Though he might not fully grasp the significance of what he is doing, I do think that by getting in the habit of dealing with money – even if it is just pennies – he is certainly learning by doing.  Even if your child's preschool does not do this, a charity donation piggy bank is so easy to do at home and a great lesson in money – and giving – to teach even the youngest little ones.
|
Print
Pages: 1 2