by Stephanie Berenbaum – March 23, 2011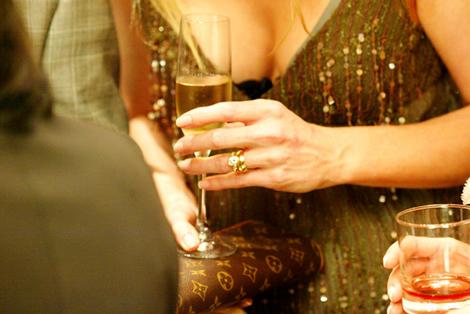 Avoiding the Unnecessary Panic Splurge
I've been working on our temple's upcoming yearly fund raising gala – it kept feeling very far off but it is actually taking place next week!  After focusing on food, auction items, music and signature cocktails, I have to admit I hadn't given much thought to what I was going to wear… That is, until my very fashionable friend Sara asked me a couple of weeks ago!
When I mentioned to Sara that I was probably going to end up wearing, "the same thing I wore last year" she looked at me as if I had just told her I was planning on wearing Dynasty-era shoulder pads to the event.  I immediately felt defensive, and started rambling on about how it was a perfect way to reuse and recycle, and that I was SO Fab & Fru!  But she wasn't buying it…
A Recycling Renegade?
Over the course of the next week Sara kept after me.  I couldn't believe it was that big of a deal. So I asked some other friends what they thought. Brandi's first question was, "Well, was it just a simple black dress?" Well, not exactly! Ok, so actually it was a crazy Trina Turk blue, purple, black and gold printed dress. So what? I loved it and it was comfortable – and certainly fit in with our 'Festive and Fabulous" dress code.
Part of me didn't care about all the raised eyebrows I would most likely get. I figured I would just rock that dress again – even if people do recall my somewhat loud, graphic print from last year!  This fundraiser is about raising money for those in need, not about what I am wearing.  I felt proud of myself for not caring what my friends thought, and even felt a little bad for them that they were stuck on such a petty matter. Until….
The Next Morning
As much as I hate to admit it, when I woke up the next day somehow my subconscious had subverted my confidence.  You know those panic dreams you have of realizing you're naked in a public place? This was the same horror – but realizing I was wearing last year's print in a public place. I woke up convinced I was going to embarrass myself to no end if I showed up in the same dress again.
Fab But Not So Fru
So, after dropping the kids at school, I jumped in the car and drove straight to Barneys for some serious window shopping- maybe I'd even find a ridiculous sale?  I was sort of ashamed of myself – where was my confidence? Where was my Fab and Fru-ness? Well, as we always say, half of being fabulous and frugal is just being fabulous…right??
As I walked into Barney's, I went straight for the designer collections to check out the latest high-end styles.  As I walked through the museum-like displays, I kept telling myself I was doing this because I deserved this, because I wanted to be here – not because I was feeling peer pressure!
And then, as really good dresses sometimes do, one called out to me.
My Friend Jil
It was a simple, black Jil Sander – and it was as expensive as it was gorgeous.  As I tried her on in the perfectly 'evening lit' dressing room, with the help of their 'try-on' Christian Louboutin 4 inch heels, my mind raced trying to figure out how to explain to my husband that I was trying to save our good name by investing in this dress!  Oh, and possibly the shoes too…
The thing is, I am all for splurging on a fabulous dress if it truly is a great investment that you'll wear forever.  But I decided I at least owed it to myself to practice what I preached – namely, to go home and think about it overnight.  I told PJ, my saleswoman, that I had to think about it for a night, and that in all likelihood, she'd see me back there tomorrow.
|
Print
Pages: 1 2