by Kathy Pape – March 10, 2011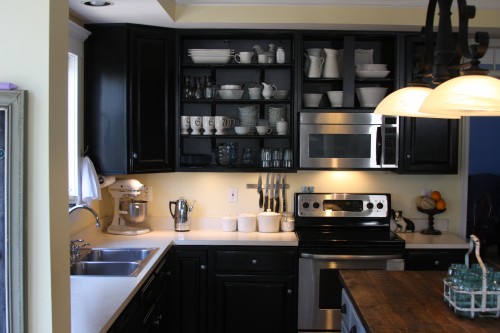 Transform Your Kitchen for Next to Nothing
Spring is my most favorite time of year because while the weather warms up and the flowers begin to bloom, I get to start my DIY home improvement projects for the year!  It's an unwritten rule in our house that I have three months to dedicate myself to making changes. The summer is too hot; the winter is too cold – so spring is my season.  And this year, my kitchen is the focus!
Kitchen makeovers and repairs are notoriously expensive, but unless you're planning to completely gut the entire room, you don't have to spend tons of cash.  Small changes yield BIG results, and you'll be pleasantly surprised how a few Fab & Fru decorating tips will give your drab, outdated kitchen a whole new look!
Find Your Glamour Spot
When you're trying to stick to a budget, the Fab & Fru  rule of thumb is to get strategic about where you spend your money.  The glamour spot of any space is the area where your eyes first land when you walk into a room.  Walk into your kitchen a few times and see where you look first – plus ask a couple friends to get some fresh eyes on your old space.  Sometimes it's unexpected, but where you consistently focus your attention is where you should do something spectacular!
In my kitchen my glamour spot is a large blank wall.  I needed something bold to make a statement so I commissioned my talented friend Sarah to paint me a gorgeous rectangular piece that looks like it should be in a museum.  It cost me a whopping $40 for paint and supplies.  –If you don't have a friend like Sarah (who gives Martha Stewart a run for her money) there are tons of great pieces at stores like Target or Pier One Imports.  An empty wall is also a great space to create a photo wall or frame your kids' art and display it!
Give Your Chairs a Face Lift
The next thing Sarah helped me with was to find a gorgeous turquoise fabric to re-do my kitchen chairs.  The fabric coordinates with one color in the painting and ties everything together perfectly.   I was surprised by how fabulous the bright pop of color looks with my dark kitchen table.  You can also coordinate fabric with the window treatments.  I used Crypton  Fabric and love it because you can literally spill anything on the chairs and it rolls right off.
Remove Your Cabinet Doors
This is a bold and interesting move that can really change the look of a kitchen by giving it a modern feel.  Olga Adler of Stylish Homes 2 Go recommends this to her clients.  She has them remove some of the cabinet doors and paint the interiors for a graphic shot of color.  This is especially nice if you have great dishes that coordinate.   It's something unexpected that makes a huge impact when you walk in the room.
Create a New Back Splash
A new back splash can completely change the look of a room.  I've seen designers paint a back splash with silver metallic spray paint on HGTV to make a subtle statement.  And designer Marc Nielsen likes to gather ceramic tiles in varying colors and patterns and do a "patchwork quilt" for a back splash. For a fun, free form mosaic look, use broken plates, cups, and pottery, keys from old typewriters, printing blocks or anything else you might find.  You'll be surprised what a little grout and a lot of creativity can do for that space behind your sink!
|
Print
Pages: 1 2