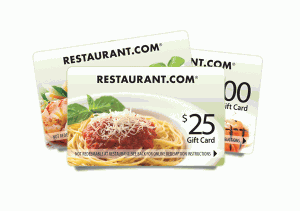 SIGN UP for our Fab & Fru Fridays, and you'll be AUTOMATICALLY entered to WIN a $100 Gift Certificate to Restaurant.com!
Restaurant.com is the trusted and valued source connecting restaurants and diners throughout the country. The company offers savings at more than 15,000 restaurants nationwide with more than 30,000 gift certificate options. Restaurant.com brings people together to relax, converse and enjoy well-prepared and -served meals at affordable prices. To date, Restaurant.com customers have saved more than $500 million through the gift certificate program!
So Sign Up NOW & you'll be INSTANTLY eligible to WIN $100 Gift Certificate to Restaurant.com! And once you've registered on Fab & Fru, we'll automatically enter you to win our Giveaway each week!
|
Print