by Stephanie Berenbaum – March 4, 2011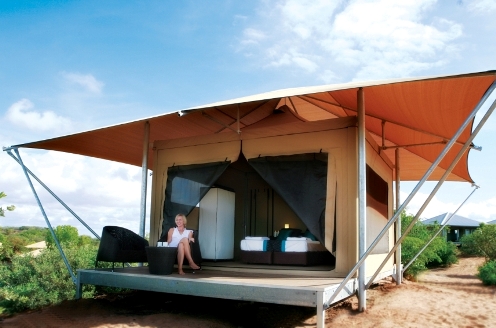 An Alternative Fab & Fru Vacation
With Spring Break just around the corner, my thoughts have turned to planning a Fab – and hopefully Fru – getaway for the family.  And while my frugal side has considered having a fun Staycation at home, the truth is, I need a change of scenery – even if it's just a few miles outside of Los Angeles – and only for a few days.  And while I would love to jet off for a week in Paris, my reality includes two preschoolers and a husband who can take very little time off of work.  So, not wanting to waste a lot of time traveling, I'm back to planning a trip in Southern Cali..
Theoretical Camping
The idea of camping has always appealed to me — in theory, at least.  And though in my mind I envision myself having the potential to be a great adventurer, clad in all the latest that North Face has to offer, I know my reality is somewhat different…. The last time I attempted to actually camp, I ended up fleeing to the safety of a nearby Best Western.  That was 10 years ago.  And ever since my Best Western camping night I have just assumed camping was not for me.  Until…
Glamour Camping
Last year, my friend Melissa announced that she and her family were going "glamping".  I had never heard this term before and while it sounded somewhat intriguing, I was totally skeptical! But when she explained to me that glamping was short for 'Glamour Camping' — she really got my attention.  This might be just the kind of camping that I could enjoy…
What's the 411
My interest was peaked, but what the heck does glamping really entail?  In a nutshell, glamping is going to a beautiful natural setting to enjoy the outdoors without having to pitch a tent or dig a latrine.  It's all the rustic benefits of camping, but with many of the amenities of staying in a hotel!
The Price Is Right
Mel found an area just a couple hours north of LA called El Captain Canyon to take her glamping trip.  She was able to leave town without having to pay for flights or drive days into the wild!
Though certainly not as frugal as actual camping, glamping offers many choices of wallet friendly alternatives to a traditional resort vacation – with the added benefit of generally being more eco-friendly than traditional accommodations.  For example, at El Capitan Canyon, prices start as low as $135 for a safari tent and $185 per night for a cedar cabin that sleeps the whole family.  Plus, you can do your own cooking and not have to pay resort restaurant prices!
One Glamper's Review
According to my friend Melissa, "Glamping was an ideal balance of luxury and affordability.  The cabins are cozy (no wi-fi or TVs, so get ready to have a technology free weekend!) and comfortable, but still have that outdoorsy and isolated feel you get from camping.  It is a nice step between "roughing it" and springing for a luxury hotel.  And unlike a typical hotel's pricey meal offerings, El Capitan had high-end organic options that are priced comparable to any market, including a fantastic wine selection — bottle opener in every room!  Definitely beats the mark-up on room service!"
Glamp Near Home or Glamp Around the World
I can't wait for our first glamping adventure, and if you're looking for an alternative option to an expensive Spring Break trip, consider exploring glamping options near you.  There are many establishments throughout the US and around the world! To find the perfect glamping spot, check out the following sites and enjoy this hip and different trend in vacationing totally Fab & Fru style!
Print