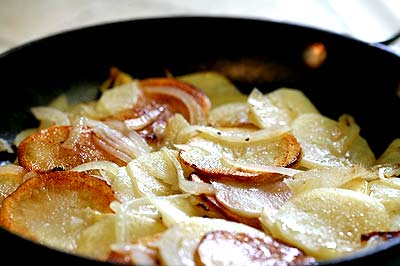 * This Fab & Fru recipe is a great way to reinvent leftover boiled or baked potatoes!

Serves 4


Ingredients:

1 large onion, peeled, halved and thinly sliced
3 Tbs of butter or olive oil (you can also do a combo of the two)
4 medium potatoes, baked (or boiled) and chilled
1 Tbs of fresh rosemary needles
Salt and pepper to taste

Directions:

Heat the oil and butter in a skillet.  Add the onions and cook slowly until soft and lightly browned. Remove the onions from the pan with a slotted spoon.  You want to keep the oil in the pan to cook the potatoes.

Slice the potatoes into 1/4 inch slices. Add to the hot pan and brown on both sides. Sprinkle in the rosemary needles while the potatoes are cooking.  Stir in the onions, toss and season.  Serve warm.  Enjoy!
|
Print