by Kathy Pape – March 21, 2011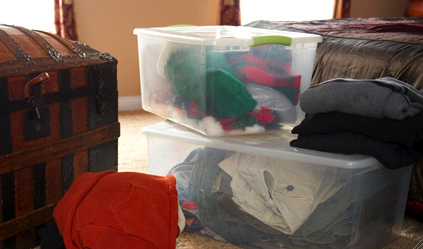 Preserve Your Wardrobe & Your Wallet
Twice a year I do what I call "switching wardrobes" in our house when I put away all of our winter clothes and pull out all the summer gear.  Oh how I would love to live in California where the seasons never change, and there is no need for this dreaded task!
For years I was lazy and inefficient at this switcheroo. I'd store my bathing suits, shorts and skirts in garbage bags and throw the bags into whatever closet I could find… That is, until I realized how much money my system was costing me when items got lost, or clothes got ruined! So, here's what I learned about storing and cleaning clothes properly…
Dry Cleaning Sweaters
Make sure you get all sweaters dry cleaned before you store them for the summer because stains and smells will set if they are tucked away in a closet for 6 months.  And even worse, moths actually LOVE to feed on dirty sweaters. I know – YUCK – but it's true!  They like all those little pieces of food that your toddler's grubby hands wiped all over the wool, and even if you can't see it, they know it's there!
Storing Sweaters
When storing, group sweaters together by material, then fold neatly and place in garment boxes that are made of organic or breathable materials such as cotton. You should put cedar balls in with them -  and since I've always hated the way cedar smells, I put lavender in the same box to counteract the smell.  Stack items loosely so they have room to breathe and don't hang sweaters or other knit items to store them because they can become misshapen by long term hanging.
Storing Boots
I used to just throw all my boots in the closet in a big pile – thereby putting a rather substantial investment at risk!  You should always take them to your local repair shop for a good once over before you put them to bed for the summer. Get suede cleaned, repair the heel caps and replace the shoelaces if needed.  All waterproofing should all be done before you store away your winter footwear.  Remove any dirt, caked-on mud or salt from your winter shoes because it can permanently damage your footwear.
I feel like a superstar because a few years ago, I learned an easy way to make deodorizing inserts for your boots.  Just fill clean tube socks with cat litter and tie off the top of each sock… They will help keep the shape of the boot and keep them smelling clean!  Who knew?  --You can also use magazines to create supports for your knee high leather boots.
Vacuum Seal Your Clothes For Easy Storage
This is not just for people who watch infomercials  – I swear!  I'm normally not a big advocate of 'As Seen On TV' products, but this one is genius. I discovered the magic of the vacuum sealing when I stumbled upon a box of bags at Costco one year.  All you do is put your clothes in the bag, use your vacuum cleaner to compress the bag and presto!  It's so compact you can store the clothes under any bed. This is especially perfect for t-shirts, shorts and yes, bathing suits!  Sweaters should be stored in boxes, however, because it can damage the fibers of the wool to be stored that tightly.
|
Print
Pages: 1 2