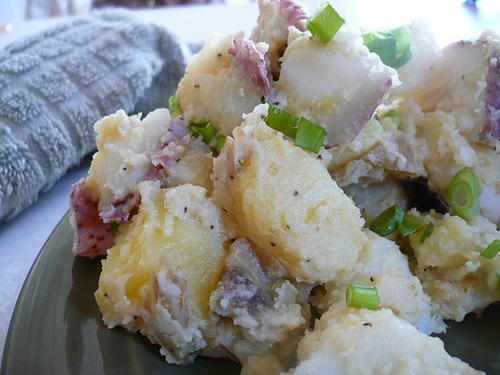 Contributed by Lisa Romagnoli
* Serve warm or cold
Serves 2-4
1 ½ lbs organic red potatoes with skins (approx. 4 medium size potatoes)

1 ½ Tbs white wine vinegar
1 Tbs Dijon mustard
½ tsp salt
1/4 cup olive oil
1 Tbs roughly chopped fresh tarragon (use half as much if you use dried)
2 whole scallions  thinly sliced
2 cloves garlic, minced
Instructions:
Place washed potatoes in a covered pot filled with lightly salted cold water. Bring to a boil over high heat, then reduce heat to medium and continue cooking until fork goes into the middle of the potato easily- approximately 20 minutes.
Whisk vinegar, mustard, and salt in medium bowl while potatoes cook. Whisk in oil, tarragon, scallions, and garlic.
Drain potatoes. When cool enough to handle, but not cold, cut into cubes or even-sized chunks, put into bowl with dressing and turn to coat. Season with salt and freshly ground pepper to taste and serve.  Enjoy!
|
Print