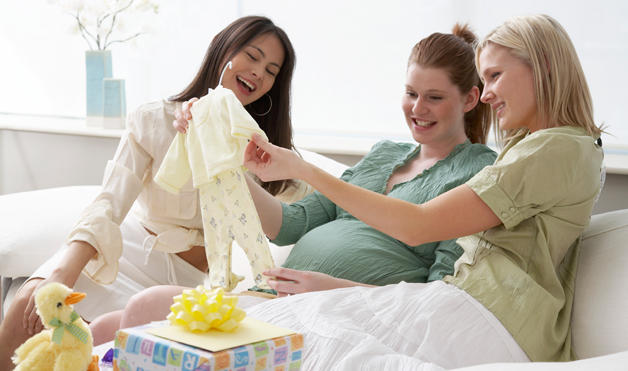 Rachel was thrilled when she found out her dear friend Tobey was pregnant with her first baby.  The baby shower was taking place in New Mexico, and Rachel decided to fly in and surprise her friend.  Rachel found a cheap ticket, and a fabulous deal on a gorgeous baby sheet set that Tobey loved.  Rachel also generously decided to pack up all her kids old designer baby clothes and ship them to Tobey.  However, when the UPS agent handed her a $45 shipping bill, Rachel got a little bent out shape.  This baby shower was starting to take it's financial toll!
Rachel felt much better the next day as she flew south to surprise her friend.  Everything went according to plan, the surprise went off without a hitch, the sheet set was a hit, and even the package of clothes arrived on time.  Tobey was thrilled!  When she opened the box full of  clothes, she was shocked to see how many brand name, super cute outfits Rachel was giving her, and she said; "How could I ever repay you".  Rachel gave her a big hug and said; "Well, the shipping was kind of expensive, so if you just want to give me that- the rest is yours!".  Tobey didn't know what to say, but agreed to the 'deal'.
Is a gift a gift, or under the circumstances was it okay for Rachel to ask to be reimbursed for the shipping costs?  What would you have done?  Tell us what you think!
|
Print