by Brandi Savitt – April 4, 2011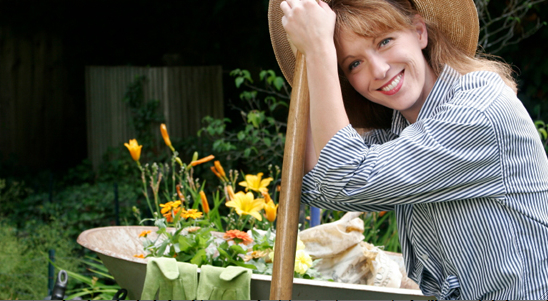 The Early Bird Gets the Worm
April showers bring May flowers, but if you want a fabulous garden this year, you can't rely on the magic of Mother Nature to do ALL of the work for you.  April is the time to start planning and prepping your yard and garden beds for ultimate productivity.  Getting organized will not only help you develop a green thumb – it will save you time and MONEY!  By planting the seeds of your labor now (so to speak) you'll help ensure healthy, beautiful plants – while preventing weeds and other pests from taking hold early in the season!
Spring Clean Your Garden Beds & Prepare Your Soil
Start by removing all the winter mulch, fallen leaves, branches and other debris, and replace with fresh spring mulch (this will also help the growth and spread of weeds before your plants have a chance to sprout).
Test your soil to ensure that the proper nutrients and PH levels are present to grow your plants.  Invest in an inexpensive soil testing kit at the garden store, to see what nutrients you need to add before tilling the soil.
Once you determine if any fertilizer or PH balancing agents need to be added, you need to test if the soil is ready to be tilled.  According to gardening expert Dr. Leonard Perry, "if the soil is still sticky and clumps together, then tilling may cause soil compaction, drainage, and aeration problems later on in the season.  If the soil crumbles when you work it around in your hands, then it's okay to till'.
Finish Pruning Woody Plants
Most woody plants should be pruned when they are still dormant from the winter. In many areas, early April is the last chance for gardeners to prune things back before flowers and leaves begin to bloom. Remove any winter damaged branches, but save major shaping for later in the season unless the plants are badly overgrown. Remember: pruning too much can inhibit flowering on woody ornamentals- so be careful not to trim away the buds!
Shrubs & Tress
Plant and transplant, shrubs or trees. However, complete all transplanting of large trees and shrubs by mid month!
Prune your evergreens. Remove all dead, diseased, and undesirable wood. However, do not prune back into the bare wood part of the plant.
Prune your Forsythia after it finishes flowering.
|
Print
Pages: 1 2