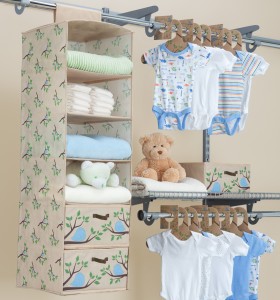 SIGN UP for our Fab & Fru Fridays, and you'll be AUTOMATICALLY entered to WIN great Giveaways like this week's FREE 20-Piece Nursery Storage Set from Delta!
April 22nd is Earth Day! To celebrate Mother Nature, Delta Children's Products resident mom & Director of Sourcing, Ileana Gangemi, has designed a unique Eco-nursery storage collection to help the environment and organize your closets!
Delta's Eco-Collection- S.O.S. (Store. Organize. Style)-  uses 100% recycled cardboard and non-toxic inks. The 20 piece starter kit (available in pink, blue or green) retails for $40 and includes hangers, dividers, storage boxes and a hanging organizer!
Enter to WIN now!
|
Print