by Kathy Pape – April 13, 2011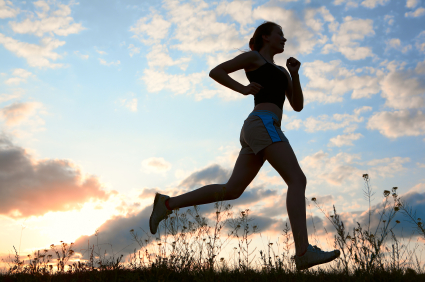 Footwear Tips to Save Your Body & Wallet
As temperatures heat up around the country, it's time to start thinking about getting in shape for bathing suit season! I always struggle with what shoes to buy for my workouts, and I usually stumble around trying things on until I find a pair that's comfortable – without really thinking about whether I will be running, walking or doing strength training…
The reality is, there are MAJOR differences between running, cross-training, and aerobic shoes.  Each are designed differently to prevent injury and give you optimal results depending on your workout.  There's no need to waste money on the wrong shoe – you just need to know what the right one is for you!
Running Shoes
If you are a runner it's important to know if you are an under-pronate runner (a high-arched runner) or an over-prorate runner (flat feet runner) when selecting a running shoe.
You're likely to be an under-pronate runner if you have a tendency to walk on the outside of your foot, have a high arch, or if the bottom of your shoes is worn on the outside.  You're probably over-pronate if you have a low arch, your ankle rolls inward when you walk, you have calluses under your big toe (or ball of your foot), or if the sole of your shoe is worn on the inside.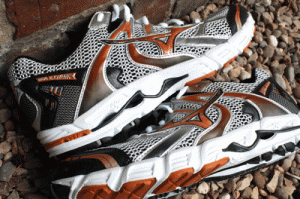 According to Mike Foley, an athletic buyer at Zappos.com, the under-pronate runner needs a neutral-cushioned shoe that encourages a more natural foot motion.  He recommends the Mizuno Wave Alchemy 10.  Over-pronate runners need a more motion-controlled shoe, such as the Brooks Adrenaline GTS 11.
Both Brandi & I are runners, and we're both huge fan of Brooks shoes.  I always find them to be extremely comfortable and durable.  Also, remember to replace your running shoes on a regular basis!  The general rule is every six-months or 400 miles.  Running on old, worn-out shoes is the number one cause of injury. Your running shoes lose shock absorption, cushioning and stability over time, and running in them increases the stress and impact on your legs and joints.
Zumba & Aerobics Shoes
Zumba is the newest form of aerobics, and it's so much fun! It's an aerobic workout that features exotic rhythms set to high energy Latin music. You feel like you're at a giant dance party rather than the gym, and you hardly know you're working out. You DO need the right shoes for a class like this however. You don't want to be wearing your running shoes because they won't support the moves.  For Zumba, dancing and aerobic classes, Foley recommends a shoe that has both flexibility and support while offering mid-foot strapping for dance moves.  He loves the Nike Musique IV for this type of exercise!
Weight Training Shoes
I have to admit I don't do much weight training anymore. After having two kids I rarely see the inside of a gym, but I do remember that when I used to lift weights my running shoes would often wobble.  I should have been wearing a shoe that was very low to the ground to keep me balanced and stable.  Foley suggests the Nike Free TR.
|
Print
Pages: 1 2