by Brandi Savitt – April 18, 2011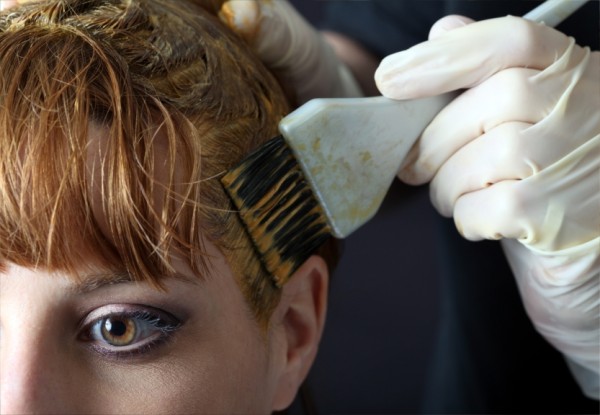 Spend Less By Treating Your Hair Right
Need to cover those grays every four weeks?  Can't live without your highlights, low lights, or crimson streaks?  Well, you're not alone ladies!  According to a 2010 British survey conducted by Tresemme, the average woman spends a staggering $50,000 on her hair over the course of her lifetime!  Luckily, we have some Fab & Fru color saving tips from master colorist & celebrity hair expert Kim Vo to help you make your color – and money -  last longer!
Wash Your Hair Less
Back in the day, the expression, "I can't – I'm washing my hair", was not just said to let a gentleman caller down easy – certain nights of the week were actually reserved for washing and setting one's hair!  And although today's wash and wear hair styles may seem easier to care for, Vo says washing your hair everyday not only dries it out- it FADES your color MUCH FASTER!
Depending on your hair type, he suggests waiting 3-4 days between washings.  –You can certainly wet and restyle your hair in between, but if you can hold the scrub, you'll make your color last weeks longer!
Use Quality Products
It may cost you an extra few bucks more up front, but using a higher quality shampoo and conditioner will save save you much bigger bucks over time.  Vo says when shopping for a shampoo for colored hair, look for a product that does NOT contain sulfates or sodium chloride. A good shampoo should also contain active ingredient ME-10 – this helps to lock in color!
Glaze Once a Week
Vo suggests applying an at-home glaze after shampooing once a week.  This will help to protect against free radicals, heighten color and add lustrous shine.
* Suggested Glaze: Kim Vo Brilliant Luster or ask your stylist for a recommendation.
Get a Tinted Gloss in between Colorings
If you're not totally gray, but your roots start to show after a 3-4 weeks, you can actually avoid another month of harsh chemicals, and avoid paying the price for a full color!  For $20-$30 you can extend the life of your color by weeks – go to the salon and get a tinted gloss treatment instead.  Much like the glaze that Vo descirbes above, a professional grade gloss can be applied every 3-6 weeks to help heighten shine, protect your hair and soften your grays – without using a permanent color!
Use Sunscreen
Did you know that you should avoid sun exposure on your hair – not just on your face and body!   To protect against overly dry hair, just spray some 30 SPF sunblock on your locks

|
Print
Pages: 1 2