by Stephanie Berenbaum – April 27, 2011

Ms. Fix It Gets Prepared
Many thing in my life have changed from my years as a single gal to my life now as a married mom — but you know what hasn't? I still don't have a proper tool box!
I have never been a particularly handy person (clearly, neither is my husband), and though of course I am Fab & Fru, when it comes to household repairs, I break all records when running to the phone to call a handyman.  But the other day, as one extremely high up light bulb in my house burned out – again – I decided I was not going to call anyone for help just because I haven't bothered to get a proper ladder.  It was just getting way too ridiculous….!
The Time Had Come…

So I went through my list of what I WISH I had – basically all the things that every household should have stocked in an organized place.  Not only would having the following tools on hand save me time and money — it would likely boost my ego to fix up the house on my own!
Supply  & Demand
Some of you are ultra prepared, and this is not the article for you. But for those of you who might be a wee bit understocked in the fix-it department, here's the dream list that I took with me to Home Depot…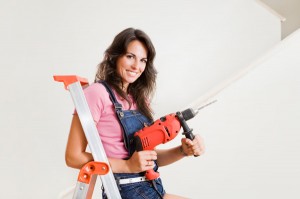 Safety Goggles: $10-$15- No, I don't see myself cutting lumber with a circular saw any time soon. But – I am a bit of a klutz. Which means even seemingly basic household chores (drilling a screw into the wall, or unclogging a nasty potty) run the risk of spewing foreign material into my peepers.
A Level: $5-$10- I admit it, I've always hired a professional picture hanger person, or asked a friend with a good eye come over to hang art for me.  Not because I didn't know where I wanted the art, but because I was so sick of hanging everything a little of center or a bit on an accidental diagonal.  And while I would still hire a professional to install a particularly heavy or large piece, a good, old-fashioned level is high on my list of D.I.Y. necessities!
Plumber's Snake: $15 - A snake might not fit in the actual toolbox, but it's a MUST to have on hand! As I have  written in the past, I have spent SO much money – seriously a gross amount – having plumbers come to unclog my toilet.  -There's also Brandi's infamous Saturday night special $400 plumber story. The bottom line- this $15 easy to use- genius invention- could SAVE you thousands of dollars by avoiding having to call the plumber ALL TOGETHER!
A Ladder: $25-$150- Somehow I have managed to live in my house for 7 years and still not own a ladder.  I have borrowed from neighbors from time to time, but I usually end up hiring a handyman when a ladder is needed. I know: LAME.
If you live in an apartment, a step stool or small stepladder will likely do the trick.  You will save yourself time, money and possible bodily harm by not trying to tip toe and balance on a rickity old chair to change a light bulb.  Before going to the hardware store to purchase one, determine the ladder height you need by measuring the highest point in your home that you want to be able to reach!
A Drill: $35-$150- I have never owned one, but the time has come.  Plus, doesn't it just make you feel powerful to drill? Top of my list is to get a cordless one!
|
Print
Pages: 1 2