by Stephanie Berenbaum – May 11, 2011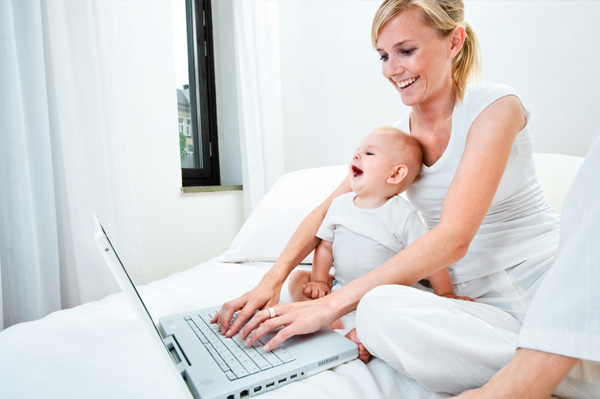 Time is Money
I was thrilled to speak with the fabulous Rita Mauceri, founder of website Dotcoms For Moms, the other day!  We all know that time is money – and this great resource can help you save more of both. Dotcoms For Moms is dedicated to finding the best of the web – handpicked for moms. Finally, someone multi-tasking on your behalf!
What's Their Mission?
The theory behind the site is that moms – of course – love to use online resources, but there is so much information out there that searching the internet can become overwhelming and way too time consuming.  So, DFM does the work of sifting through and rating all the internet has to offer – so you dont have to!
Well, all this is right up Fab & Fru's alley – so much so that I was delighted to be asked to be DFM's new 'Frugal Mom Maven' -  and soon I will be offering my fabulous – and frugal – tips as one of Rita's mom experts.
Three Kids…In 14 Months
But back to Rita.  Aside from loving her site, I found Rita's personal story to be incredibly inspiring.  She found herself, as many of us do, making the transition from the corporate world to the mommy world – and in Rita's case it was quite a shift.  She entered mommyhood on a fast track – she gave birth to 3 children in 14 months. Yes, you read that correctly. She had twins and then four month later got pregnant again.  She's now the proud mom of twin 5 year old boys and a 4 year old daughter – this woman knows first hand about the demands of being a busy mom!
Transition Time
Rita left a career as a successful TV producer to start her own venture.  But like many of us who want to leave corporate America to become entrepreneurs, she grappled with what to do next.  Then one night, Rita had an epiphany when she was online looking for socks for her kids (proof that inspiration can come when you least expect it!) It took her 3 hours to find what she was looking for, and it dawned on her that there was a major need for a "go to" resource that could narrow down all the cool stuff moms are looking for without them having to waste a lot of time sifting through all the junk out there!
Rita's Picks
Given that Rita is so good at finding needles in a haystack, I was of course curious to know what some of her top Fab &  Fru picks were! Not surprisingly, she had some great tips…
Ikea Hackers!
Despite my love of Ikea, I had never heard of one of Rita's favorite sites – Ikea Hackers!  This site shows you how to turn your Ikea finds into personalized,  fabulous additions to your home.  It's amazing how simple add-ons – like decals or paint – can do the trick in seconds . We love it!
|
Print
Pages: 1 2