by Stephanie Berenbaum – May 4, 2011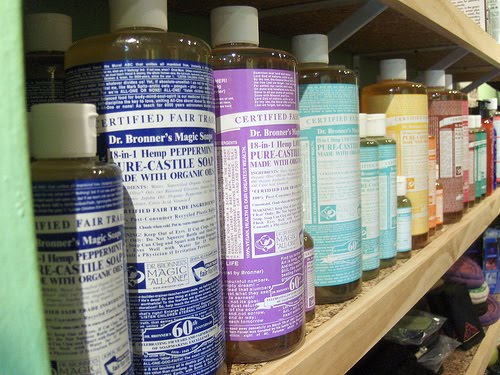 Just What The Doctor Ordered
When I was visiting my sister recently, I noticed that she uses Dr. Bronner's Liquid Magic Soap for everything from bathing the kids to cleaning the counters.  I've always passed over this product in the store aisles because of it's unusual packaging – I wasn't really sure what to make of it.  But I just had to see what had my sister was so hooked.  So, I lathered up in the shower and became an instant convert!
The 'Write' Stuff
You may not know it by name, but I am sure you have seen Dr. Bronner's distinctive bottles at some point or another and wondered what kind of crazy potion must be inside?  The labels seem nondescript at first glance but are completely covered in tiny writings of a spiritual nature – at first I found the packaging so distracting I wasn't even sure what the product inside was. Well, the crazy thing is, this little bottle that I have been ignoring all these years is actually a fantastically Fab & Fru Certified Organic and Fair Trade product!
Penny Pinching and Pure
Soap is supposed to be clean, right? But have you ever taken a chance to look at all the synthetic chemicals and additives in many of the body washes and soaps we buy today?  I've become more and more concerned with what toxic ingredients might be left behind after we 'clean' ourselves. Which is why I was thrilled to learn about how truly all-natural and organic Dr. Bronner's products are!
Ingredients used: A combination of organic extra virgin coconut, olive, jojoba and hemp oils, together with pure essential oils, creates a unique soap that cleans effectively without being aggressive and produces a velvety-lather that leaves the skin silky-smooth and refreshed.
What Does Castile Soap Mean Anyway?
According to the company, "Our soaps are 100% true pure-castile soaps. The high foaming lather of our soaps is from their high coconut oil content, which makes a more luxurious and rich lather than any detergent can ever create. Pure-Castile is your guarantee that what you are using is a real ecological and simple soap, not a complex blend of detergents with a higher ecological impact due to slower biodegradability and waste created during manufacturing. Unfortunately, many synthetic detergent blends are deceptively labeled as 'Liquid Soap' even when they contain absolutely no soap whatsoever."  Who knew?
Whole Foods Premimum Stamp of Approval
In addition, I checked at my local Whole Foods and the Dr. Bronner's liquid soaps had actually earned their Premium Body Care label – their highest standard of care.
|
Print
Pages: 1 2