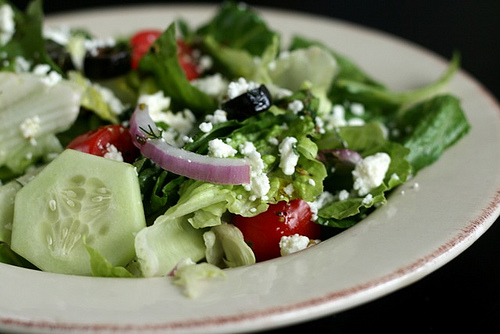 * Serves 6-8
Ingredients
1 large head of romaine lettuce
2 ripe tomatoes- wedged
1/4 cup of  kalamata olives
1/2 of a medium onion (red or yellow) thinly sliced
1 small cucumber thinly sliced
1/4 lb of feta cheese sliced into chunks (can also use 1/2 cup of crumbled feta)
1/8 of a cup or fresh chopped oregano (or to taste)
8 stuffed grape leaves (optional)
1/8 cup of olive oil
1/8 cup or red wine vinegar
1/2 of a lemon
salt & pepper to taste
Preparation:  Clean the romaine very well and tear or chop it to the desired size.  You want your lettuce dry before adding the other ingredients so put it in the salad spinner or use a paper towel to soak up the excess water.  Prepare the other vegetables and the salad dressing.
For the salad dressing, combine the olive oil, red wine vinegar, lemon juice, 1/2 of the chopped oregano and the salt & pepper.  Use a blender, fork or shake to mix well.
Combine all the remaining ingredients into a bowl and toss together with the dressing.  This is a perfect salad to go with any meal, or add some grilled fish or chicken, and it's a meal on its own!
|
Print