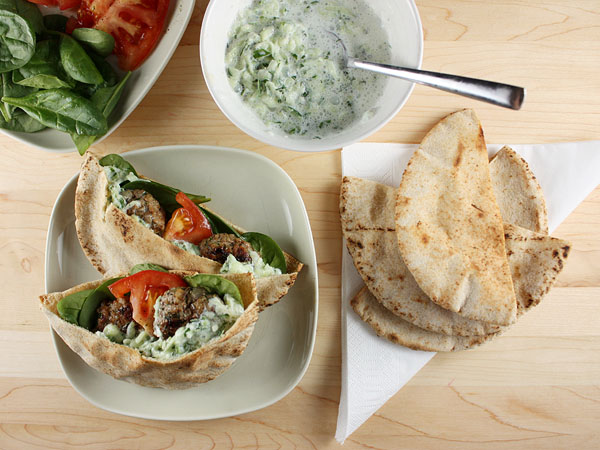 *Serves 6-8 people
Ingredients for Lamb Burgers:
2 lbs ground lamb
1 medium onion finely chopped
2 minced garlic cloves
1/4 cup of chopped fresh mint
1 tsp of red pepper flakes (or to taste)
1 tsp of sea salt
4 large fresh whole pita breads
Romaine lettuce, sliced onion, & sliced tomato – to pile of burger if desired
Ingredients for Cucumber Yogurt Dressing:
2 1/2 cups of plain Greek Yogurt.  (If you can't get Greek yogurt substitute 1 cup of plain yogurt with 1 cup sour cream)
1 Tbsp of lemon juice

1 cup of crumbled Feta cheese
1 small cucumber- diced
1-2 minced garlic clove
1/4 cup of fresh chopped mint
salt & pepper to taste
Preparation:
Do all of your chopping first.  Place the ground lamb into a bowl and use clean hands to mix in all of the other ingredients.  Make 8 quarter pound patties and refrigerate until you are ready to grill.  These burgers are best on the grill, but you can also cook in a skillet on the stove top.
To prepare the Cucumber Yogurt sauce, combine all of the ingredients into a bowl except the feta and cucumber.  Once the seasonings are blended, fold in the cucumber and then add the feta cheese.  The sauce should be thick. Refrigerate until ready to serve, and serve in a small bowl.  People can add their desired amount of sauce to their own burger.
Light your grill.  Before grilling, cut each pita in half to make a pocket or wrap.  Just before the burgers are done cooking, throw the pita on the hot grill to heat it up (30 second on each side). Arrange the lettuce, tomato & onion garnish plate.  Cook the burgers to order, and let your guests assemble their own.  Enjoy!
|
Print