by Stephanie Berenbaum – May 13, 2011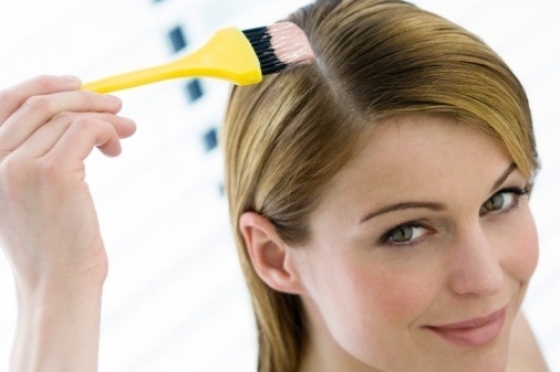 From Grey To Hooray
As I may have mentioned, I've had grey hair since I was in my early twenties.  Now, at age 39, I am basically 100% grey.  To make matters worse, my hair grows so fast that if I dye my hair on Monday, by the weekend little grey roots poke out just to taunt me.  And while I do at times think I should just stop coloring all together and embrace my inner silver fox, for the time being, I am still committed to maintaining my dark brown locks.
Cheating on Your Favorite Product
I have written a couple of times on Fab & Fru about how much I love my at home hair color, Naturtint.  But I have to be honest – I did cheat on her recently. It had been so long since I had my hair colored in a salon that I figured I'd give it a shot.   I wanted to treat myself, and I thought it might be fun to sit in a chair reading Elle Magazine and sipping hibiscus tea while someone else doted on me.  I was excited, and I really wanted to LOVE the experience.  The colorist was charming, and mixed a variety of shades which probably got me closer to my original color than I'd been in years.  Plus,  I have to admit it was fun to have a cappuccino, spring water and cookies delivered to my station with a smile.
But after spending a couple hours and a couple hundred dollars (this is LA, remember!) I have to say, I am happily back to my at-home Naturtint. It's not that the salon color didn't look great – it did.  But it really didn't look much different than my Naturtint 'Natural Chestnut' does.  And it still didn't seem worth it to me to spend that kind of time and money.  So, since I feel sort of bad for cheating on her, I'm giving my true love another Fab & Fru  shout out!
Naturtint, Why Do I love Thee So?
Coverage – My hair is not only 100% grey – it is "hard to cover" grey.  Those 'just ten minute' colors never work on me.  My hair needs to be saturated for a good long time until it submits to the brown, and Naturtint really does the trick.
Natural - I have become increasingly more concerned with the health effects of the beauty products I use.  And while I know it would be best not to slather on loads of dark hair color as often as I do – I still do it.  The good news – though Naturtint does contain chemicals, it is formulated without Ammonia, resorcinol or parabens.  An added perk – they do NO animal testing, and the products do contain natural & organic ingredients.
Price - You can readily buy Nutratint at Whole Foods where it usually costs between $15-$18 – but you can get it on line for much less if you plan ahead.  Also, it finally dawned on me the other day that I should just buy a case of it and get the Whole Foods 10% off discount!
Waste Less Product - Because I have to touch up my roots so frequently, I go through lots of product, but never end up using the entire box because I'm typically only coloring my roots.  I finally went on line and saw that it is possible to just use what you need and save the rest for later – as long as you leave the excess unmixed and in their separate containers.
According to Naturtint,  "If you are touching up your roots…mix up separately in a glass or plastic bowl and keep back the remaining tint and developer – separately in their individual bottles with their tops closed.  Both will keep for several months, making the mixing both practical for you to achieve the exact shade you require and cost effective too. Using only small amounts when required also means less environmental waste of unwanted mixture, and it is even kinder on the hair and skin."
Returning to My True Love
So, yes I had a one-afternoon stand at a serene and fabulous L.A. salon. And I have no regrets about it -  really, it was a fun experience.  As much as I wanted to embrace an afternoon of being a lady of leisure, I didn't really enjoy it all that much – at least not enough to warrant the amount of time and money I had spent on it.
So: the other night I blissfully opened a bottle of wine, turned on my latest Tivo'd show from the Science Channel, and colored my own hair with my old friend Naturtint – at 10 o'clock at night.  Sure, it wasn't quite the salon experience, but for $15 bucks and 30 minutes, it was time – and money – well spent!

|
Print