By Stephanie Berenbaum – June 2, 2011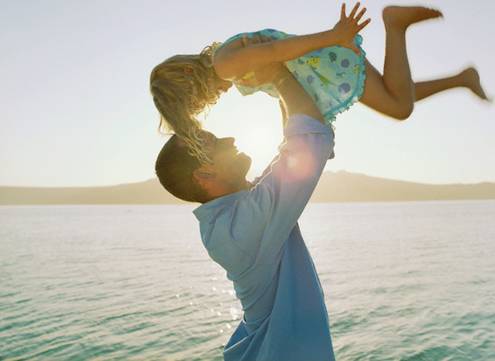 Special Gifts for Dear Old Dad
Ok, so Father's day is less than 3 weeks away and you've gotten NOTHING for your Fab dad or hubby yet?  No worries – Fab & Fru has handpicked our top gifts for you!
For the Beer Lover
Check out the MicroBrew of the Month Club!  We love it for an updated twist on the old monthly club gifts, and you can customize it to fit your budget by signing up for 3 months, 6 months, or a full year, at $28.95 per month.
For The Sports Fanatic
Think this next gift is a bit ridiculous? Then obviously you aren't married to a sports fanatic like I am!  For those of you with a lawn, consider the Fanedge Lawn Logo kit, for $79.99.  Particularly if your guy spends a lot of time outdoors grilling for friends, he'll feel like a rock star with his big old team logo spray painted on your lawn. I know, I know ….. But it is FATHER'S Day.
For the Grill Master
Speaking of grilling, we love Williams Sonoma's personalized grill branding irons – at a reasonable $39.95. OR if you are feeling particularly generous, double this up with the lawn logo item, and your guy will feel like king of the neighborhood.
For the Techie Dad
Part practical, part pop art, we love these Star Wars Flash Drives from Mimoco.  Starting at just $22.95, buy dad one or a bunch of different characters.  May the force be with him.
For the Low-Tech Dad
If you are of a certain generation (mine) chances are your dad or your hubby probably has a fabulous record collection languishing in the basement.  And for those of us who remember music pre-CD and pre-ipod era, we know there is no replacement for the crackle and pop sound pure vinyl gives off.  The solution:  get your hubby a RECORD PLAYER – yes a real old fashioned record player!
Share in the fun of busting out that old record collection and listening to Thriller – like you remember it – with skips and all! For the best of both worlds, check out this stylish, $89.00 model from Crosley – which plays your vinyl and converts it to CD format!
For the Practical Dad
With the new study just out about potential risks from cell phones, experts are urging us all to use earpieces when talking on a cell phone.  If your dad is someone who will put off getting an earpiece forever, do him a favor and get him one for Father's Day!
For the Fashionable Dad
Every guy we know thinks NIKE ID is the coolest thing ever.  Both practical and unique, get your guys a gift certificate to design their very own pair of Nike shoes!  Pricing depends on shoe, starting around $105.00.
So, there you have it – our best Fab & Fru father's day finds – starting at just $22.95.  Think we've missed something? We want to hear from you – write in and tell us what your favorite frugal father's day gift is!
|
Print