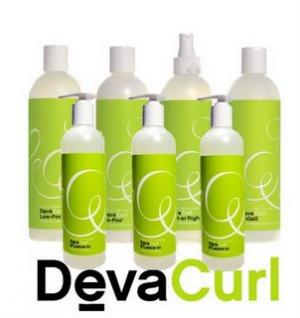 TAKE ADVANTAGE OF THIS CURLY HAIR DEAL FROM RICKYSNYC.com!
Every curly hair girl in New York uses Deva Curl products and now – you can too!  Take advantage of Ricky's special offer and get a FREE no frizz comb with any Deva Curl purchase that is over $25!
Just Use Promo Code – FLSDEVA25 – When You Place Your Deva Curl Order!
Ricky's is an edgy, ultra-hip "beauty shop" specializing in unique fashion accessories, cosmetics, and beauty supplies, Ricky's NYC has been a part of New York's urban chic culture for nearly two decades, and now anyone across the country can order their products online…
Once exclusive to their high-end NYC curly hair salon Devachan, Deva Curl products are now carried by Ricky's and Ricky's online.  Deva Curl was created to enhance the curly lifestyle. Perfect for curly, wavy and chemically processed hair, this innovative hair care system rejuvenates, restores, and respects hair's natural order without the use of harsh and dehydrating chemicals.  Brandi has been using Deva Curl for years and absolutely loves their products.  If you have curls, you will be an instant convert!
SIGN UP NOW for the Fab & Fru's daily newsletter, and you will receive fabulous deals like this EVERY WEEK!
|
Print