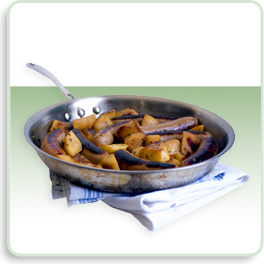 Recipe provided by Applegate Farms.
* Serves 2 people
Ingredients
3 tbs. butter, divided
4 Applegate Farms Chicken & Apple Sausages
1 small onion, minced
1 Granny Smith Apple. peeled, sliced
1/2 cup apple cider
1/2 cup chicken broth
1 tbs sage, chopped fresh
1 1/2 tsp lemon juice, fresh
Preparation
Preheat oven to 400ºF.  Melt 1 tbs of butter in a large skillet over medium heat. Add sausages and cook until brown, turning occasionally, this should take about 5 minutes. Once brown, remove sausages from the skillet and transfer to a heat-proof dish. Cover with foil and place in the oven to keep warm.
Add the onion and apple to the same pan; cook until onion and apple are tender and brown, stirring often, this should also take about 5 minutes. Once this is done, add apple cider and chicken broth; increase heat to high and stir until liquid is reduced and thickened slightly, after about 2-3 minutes, stir in the lemon juice.
Now you can remove the sausages from the oven and transfer to a serving platter. Remove pan from heat and whisk sage and remaining 2 tsp. of butter into cider mixture. Feel free to season with salt and pepper, then drizzle over sausage and serve!
|
Print