We're so excited about our new Organic Coupon Corner - it's our chance to bring YOU deals and news each week on some of OUR favorite natural and organic products.  Plus, each week we've got a healthy Giveaway just for you: this week we're featuring the all-natural – and all-delicious – Food Should Taste Good Chips!
This week's GIVEAWAY Winner will receive FIVE 5.5 ounce bags of Food Should Taste Good chips!  For a chance to win, just LIKE us on Facebook and leave a comment saying which flavors of chips you're most interested in trying!
In addition to our giveaway, we also have some "Food Should Taste Good" Coupon Info for you… The company is offering a $1 off coupon on their website for anyone who signs up for their fan club!
In case you are not familiar with "Food Should Taste Good" chips, you'll be happy to know they are as healthy as they are delish! Their all natural tortilla chips are made from real, simple ingredients.  They are free of cholesterol, preservatives and trans fat, and they DO NOT use any GMOs.  They are also certified kosher and gluten free, lower in sodium and area good source of dietary fiber. –Oh, and did I mention they taste FANTASTIC!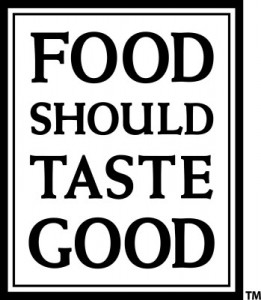 My personal favorites are their Multigrain chips.  And, let's be honest – when you hear multi grain chip you might not expect a delicious tasting snack, but seriously – they are!  They have a rich, addictive flavor and the best part is I don't lose my appetite when I look at the ingredients!
In addition to my beloved Multigrain, their wide range of unique flavors includes:  Sweet Potato, Olive, Jalapeno, The Works!, Lime, Blue Corn, Cheddar, Toasted Sesame, White Cheddar and ….wait for it …. CHOCOLATE!
Yes, I said Chocolate. At first glance you might question a Chocolate tortilla chip. But I am telling you – the salty sweetness is such a treat! And seriously, your kids will think you're a rock star for serving Chocolate Chips!
Some of my family's FSTG favorites:
- Crumble the chocolate tortilla chips over vanilla ice cream for an elegant, healthy topping!
- Jalapeno chips in place of plain tortilla chips as new twist to my chilaquiles (my favorite egg and tortilla chip breakfast)
- Toasted Sesame chips paired with Greek Tzatziki Yogurt dip
- Break up FSTG Cheddar Chips and top tomato soup with them for a crouton alternative
- Top their Mulitgrain chips with bits of Feta as an accompaniment to a green salad
And you really can "top" these chips because they are hearty – on the bag it says "it's a cracker too!" and they really are.  I love the two in one aspect to them – it saves money and space in your pantry!
Spread the word – tell your friends to like us on FB for a chance to win our 5 bag FTSG giveaway – and be sure and check out their website for coupons and more info on this all natural nosh!
|
Print